London-based gallery Cecilia Brunson Projects presents "Katie van Scherpenberg: Traces 1968-2007" by the pioneering Brazilian-born artist of Dutch descent, now eighty-three years old and living in a leafy enclave in Rio de Janeiro where a troop of indigenous monkeys swinging on the tree branches of the Mata Atlantica forest ecosystem give life to the verdant scenery.
Low-key van Scherpenberg is hailed for an oeuvre across mediums and genres impelled by her quest for radical poetic investigations aimed at defying established canons of the art and technique of the medium of painting. As a young artist in the period from 1968 to 1985—coinciding with the country's two-decade military rule—van Scherpenberg dropped out of our so-called civilized world to live in a remote fluvial island in the Amazon and found a spiritual dimension in painting. The highlights of these years are her visionary performances and interventions coloring the dark Amazonian waters with natural pigments she developed herself from the surrounding tropical flora, and captured in a series of photos. With these visionary ephemeral experiments van Scherpenberg introduced the concept of land art, also called earth art, in Brazil and became a major reference in contemporary Latin American art.
For many years van Scherpenberg taught in the Parque Lage School of Visual Arts in Rio de Janeiro—Beatriz Milhazes is among her students. The artist's work was exhibited twice at the São Paulo Bienal (1981, 1989), and is present in the collections of major Brazilian museums and institutions abroad such as the Blanton Museum of Art, Austin, Texas; Collection Patricia Phelps de Cisneros, New York; the Royal collection of Sweden, Stockholm; and the University of Essex Collection of Latin American Art (ESCALA), Essex, UK.
We invited three contemporary art specialists and curators who have written about van Scherpenberg and curated previous shows of hers in Brazil and abroad to discuss their views on her artistic trajectory—Gabriel Pérez-Barreiro, Michèle Faguet and Kiki Mazzucchelli—as well as fellow conceptual Brazilian artist Karin Lambrecht, who lives in the UK, and is also represented by the gallery. This is the second time the namesake gallery founded by Chilean Cecilia Brunson, in 2013, in London, has exhibited van Scherpenberg's work—the first was "Overlooking the Amazon" in 2021, curated by Mazzucchelli, who also wrote the critical text in the exhibition catalog. It is important to note Cecilia Brunson Projects addresses a lacuna in the history of art. The gallery is notable for mapping experimental artistic practices by Latin American artists and acknowledging their influence on international art production.
Based in Madrid, Gabriel Pérez-Barreiro is an art historian, curator and author. He was the curator of the 33rd Bienal de São Paulo and the 6th Bienal do Mercosul. Pérez-Barreiro has curated exhibitions with works by van Scherpenberg and written about her work.
"Katie van Scherpenberg's artistic journey is intimately connected to the Amazon, where she resided for many years and developed her approach to art and life. As a young girl, she accompanied her adventurous Dutch father to the island of Santana in Amapá, in the greater Amazon region, establishing a home there. Her contemplation of the passage of time and the commanding force of nature sparked a profound inquiry into the essence and practices of painting, inspiring her to forge an artistic language where nature, time and decay harmoniously intertwine as integral elements in her work.
"In Van Scherpenberg's artworks, natural pigments organically interact with their mediums, fostering conditions where the paintings evolve and transform over time. In many instances, she placed pigments directly in nature to observe the effects of time and life on them. In other instances, as in the series 'Mamãe, Prometo ser feliz' or 'Feuerbach e eu,' the paintings themselves are constructions that encourage interaction with their surrounding environments, thus challenging the traditional Western notion of static and permanent art."
Michèle Faguet is a freelance writer and curator living in Berlin. She is the author of the catalog text (excerpted below) of van Scherpenberg's current exhibition.
"Over the last half a century, Katie van Scherpenberg has pursued the practice of making art as an organic extension of her nomadic biography, her natural surroundings, and her everyday life. Although the development of her work—from figuration addressing overtly political themes to geometric abstraction to landscape interventions documented in film and video—mirrors many of the trajectories of postwar art both in her native Brazil and abroad, her primary interest has always been the medium of painting and its intrinsically meditative quality: 'Painting is my field, the record of passing thoughts, brushstroke by brushstroke.'
"In the first of these 'landscape paintings,' as she called them, van Scherpenberg painted over the garden of the Parque Lage School of Visual Arts in Rio de Janeiro with red iron-oxide pigment, photographically registering the slow disappearance of her intervention with the growth of new grass and the gradual transformation of this living tableau from deep red to bright green. There is a performative element at play here; however, the protagonist is not the artist leaving a permanent mark on the landscape as did so many (primarily male) practitioners of land art in the 1960s and seventies, but nature itself, which sometimes successfully evades human attempts to fundamentally alter or master it. In 2000, she was invited by the curator Paulo Herkenhoff to enact a similar intervention at Boa Viagem Beach, next to the Niterói Museum of Contemporary Art. The video 'Menarca (Menarche),' 2007, its title referring to a woman's first menstruation, shows the artist submerged in the ocean, where she releases red pigment that quickly stains the water and envelops her body, eventually washing onto the shore in a direct allusion to how the banks of the Amazon River are painted red by the high iron-oxide content of the water."
São Paulo-born curator and author Kiki Mazzucchelli wrote the catalog text for van Scherpenberg's first exhibition at Cecilia Brunson Projects, "Overlooking the Amazon," in 2021. Following is a fragment of the text where Mazzucchelli mentions the work "The Fall of Icarus" (1980), currently on view at Cecilia Brunson Projects. ("The Fall of Icarus" was previously shown in 2019/2020 in the artist's solo retrospective "Olamapá," at Centro Cultural Oi Futuro, Rio de Janeiro, curated by Pérez-Barreiro). 
"A turning point in van Scherpenberg's trajectory was the work 'The Fall of Icarus' (1980), which marked her first incursion into three-dimensional space and the exploration of movement and time. The work comprises five MDF square panels painted in white tempera installed horizontally on a wall covered in black velvet. Each module features a small white plaster object placed on the left-hand side of the surface. These panels are identical, except for a black strip that traverses each piece horizontally, placed at the bottom of the first panel and shifting slightly upwards on each iteration. Here the Greek myth is translated into strictly abstract forms, with the tragic fall only tangentially suggested through the visual effect of the horizontal stripes that cut across each square, like a sequence of snapshots of a film strip in motion. According to curator Gabriel Pérez-Barreiro, in 'The Fall of Icarus' the artist articulates for the first time 'the relationship between the human body, nature, paint, and indifference.' As he points out, the work is devoid of any individual drama; what it shows is a body falling in space or, in Pérez-Barreiro's words, 'the drama of nature and time itself .'"
We discussed Katie van Scherpenberg's visionary oeuvre with Brazilian conceptual artist Karin Lambrecht, who has been living in Broadstairs, UK since 2017, and is also represented by Cecilia Brunson Projects.
Karin, can you give us an insight on Katie van Scherpenberg's oeuvre?
I find Katie, now eighty-three years old, to be Brazil's greatest master of the art of painting. Her oeuvre thrives on a vast and challenging six-decade experience. Considering diversity and genre, Katie stands among the Brazilian painters who have chosen to respect and study the rigors of art history in the European tradition of modernism. Her work expands the limits of painting making the viewer not only see but also hear. She achieves this by using different materials in compositions that have memory, with the paint produced in the fashion of alchemical processes, and the color depending on the fluids used for each situation or experiment. Her abstract work awakens spirituality and encourages reflection on Mother Nature as well as the psychoanalytical/familiar nature of motherhood and fatherhood. On the other hand, the fragility of her ephemeral work induces an intimacy, such as the silence evoked on the works produced with her mother's beautiful tablecloths, stiffened by unusual liquid mixtures that dye and stain the fabrics, and on the works made alongside the Amazonian river waters and on the grass in the garden of the Parque Lage School of Visual Arts in Rio.
How about the psychological atmosphere conveyed in her work?
I sometimes imagine they reveal stories of love, pain and, ultimately, death. Sometimes Katie's work brings forth tragic occurrences expressed on the sensualness of the materials she employs. Another crucial characteristic for a better understanding is the ritual involved, which in her terms seems to mean retreating into her inner world but, at the same time, is impelled to resurface and transform itself into pictorial and visual language. I would also like to mention that her painting expands the limits of the formal tableau. For Katie painting is also achieved when it dyes the soil with a saturated, liquid red from iron oxide, a natural Brazilian pigment.
Anything else you would like to mention?
To have her work at this moment of her trajectory being shown in a well-deserved exhibition in London is most significant. Her work is being recuperated, talked about and acknowledged thanks to Cecilia Brunson Projects, a gallery specializing in Latin American art. Finally, to wrap up my thoughts on this great artist, we should also bear in mind the importance of Katie van Scherpenberg's role in forming artists and free-minded individuals in Rio de Janeiro. It's a result of her generosity of sharing her precious knowledge acquired over so many years through her poetically bold experiments and unusual life-experience.
Katie van Scherpenberg / Traces: 1968 – 2007
Through July 28, 2023
Cecilia Brunson Projects, London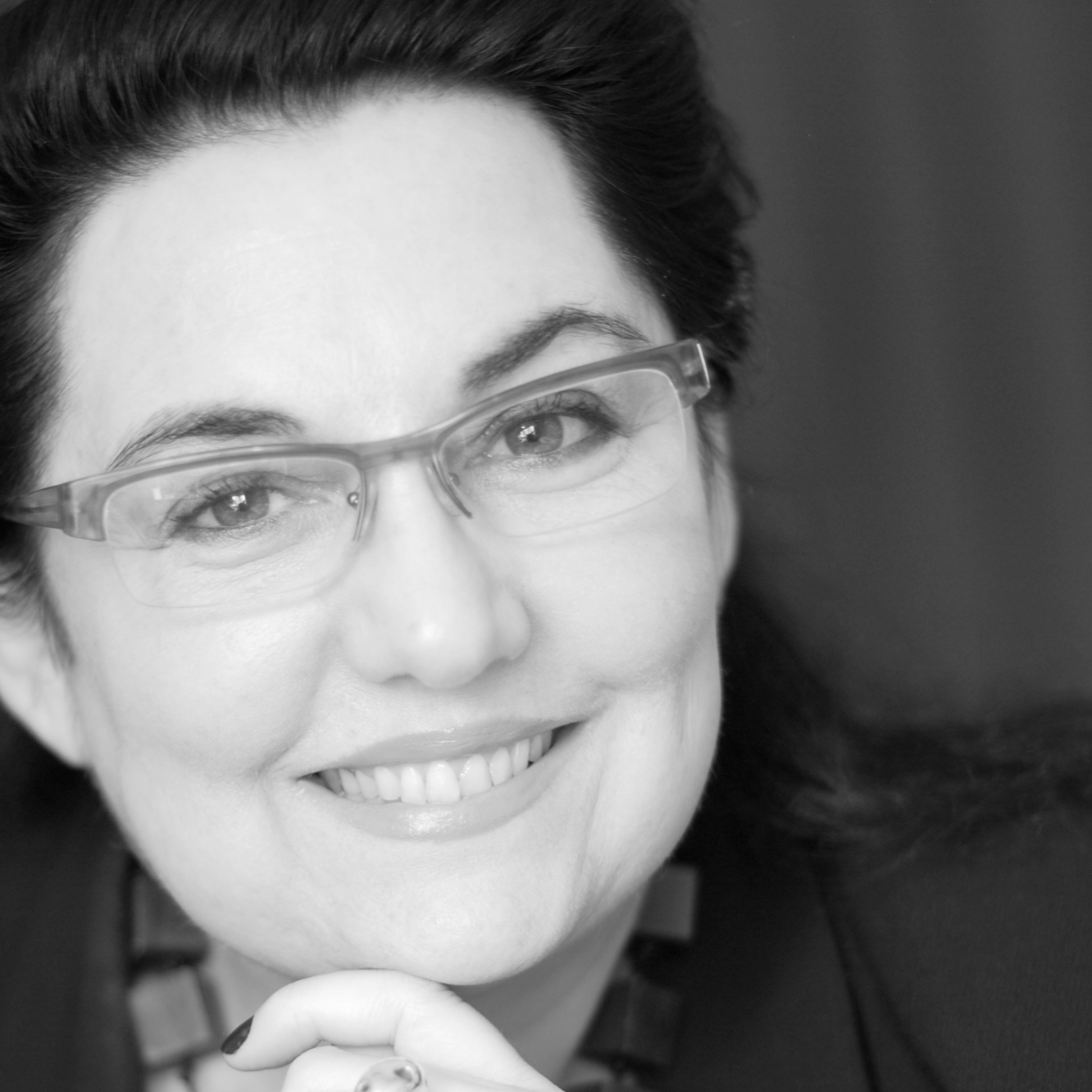 Rio-born Cynthia Garcia is a respected art historian, art critic and journalist fluent in five languages stationed in São Paulo. Cynthia is a recipient of the 2023 APCA (Paulista Association of Art Critics) award as a contributing editor of Newcity Brazil since its founding in 2015. Her daughter America Cavaliere works in the contemporary art market and her son Pedro Cavaliere, based in LA, is in the international DJ scene.
Contact: [email protected], www.cynthiagarcia.biz