Staged at Sotheby's S2 Gallery in April, "Flávio de Carvalho: O Antropófago ideal" (The Ideal Anthropophagus), is now on view in São Paulo at Galeria Almeida e Dale. The well-researched solo exhibition has a comprehensive catalog and is a wonderful opportunity to delve into the legacy of one of Latin America's most forward-thinking and controversial artists. The exhibition was masterminded by Kiki Mazzucchelli, a São Paulo-born independent curator who has lived in the UK for over twenty years and is our interview subject. An expert on the artist, Mazzucchelli acknowledges Carvalho's advanced ideas opened the path for the conceptual experiences of Lygia Clark and Hélio Oiticica in the 1960s and 1970s.
It's impossible to separate Flávio de Carvalho (1899-1973), the flamboyant, confidant man from the São Paulo elite, from his art. A true Renaissance man, he explored several fields, and was well-versed as a talented painter, portrait artist, draughtsman, architect, engineer, essay writer, poet, fashion and interior designer, as well as an author and playwright. Now he is hailed for his vision, but in his days he was slashed by conservative society, the clergy and the majority of art critics.
The prolific provocateur also had a knack for self-promotion. One of his cause célèbres happened in 1956, when he designed attire for men in the tropics. Donned in a short-skirted suit with specific aeration features, the artist himself paraded the eccentric garb dubbed "Experience n.3," otherwise known as New Look, in the streets of downtown São Paulo. It is now viewed as a proto-performance. The population was shocked, the traffic stopped, but his far-out idea, as he predicted, was castigated in the front page of the local newspapers. Tarnished or not, he went on fueling his copious mind with his makings until his death two decades later.
Flávio de Carvalho's avant-gardism is also being celebrated at the Berlin Biennale for Contemporary Art in the program, "The Bones of the World," a phrase taken from the artist's travelogues during his time in Europe in the mid-1930s.
Flávio de Carvalho was a multidisciplinary artist in a time when being involved with so many facets and genres of art, architecture, engineering, theater was very unusual. Was he a creative genius? A visionary?
Flávio de Carvalho was indeed a pioneer in several fields: in 1927 he submitted a project for the new Government Palace of the São Paulo State, which is considered the first manifestation of modern architecture in Brazil; in 1931 he carried out his "Experience n.2," a kind of proto-performance work where he walked against the flow of a Catholic procession in downtown São Paulo wearing a cap—an item which is strictly forbidden for men in this type of ritual—in order to test the psychology of the masses; in 1933 he wrote and staged the play "Bailado do Deus Morto" (The Dead God's Dance), presenting an extremely avant-garde text, set design, costumes and music conceived as a renewal of modern theater in the country. These are just a few early examples of his multidisciplinary practice. He was also an extremely active thinker, writer and cultural promoter, who organized several exhibitions and conferences in São Paulo, particularly in the 1930s. Although he received a fair amount of praise and recognition for his pictorial work during his lifetime, his experimental projects only started to be reviewed and taken seriously in 1983—a decade after his death—when curators Walter Zanini and Rui Moreira Leite organized the first comprehensive survey of his work as part of the São Paulo Biennial. In retrospect, I believe Flávio can be considered the first truly conceptual artist in Brazil as all his work—across architecture, drawing, fashion, painting, performance, etc.—is informed by ideas drawn from his main fields of interest, namely ethnology and psychoanalysis. From this perspective, his works of a more experimental nature cannot be dismissed as mere pranks, as many Brazilian critics have done in the past, but rather as groundbreaking pieces that have helped expand our understanding of what can be considered art.
One aspect that is fascinating about his character is his self-assurance. Even though most of his works were rejected by São Paulo's conservative bourgeoisie, he kept going. What made him so self-assured?  Or did he just like to shock them?  
As mentioned before, he did receive considerable praise for his pictorial work during his lifetime, although he suffered a great deal of persecution from sectors of the Catholic church, which was very influential in São Paulo's establishment at the time. However, Flávio also comes from an aristocratic background, meaning he was also very well connected to influential individuals who had a more progressive leaning. Therefore, especially in the 1930s, he played a very important role in São Paulo's cultural scene. Later, in the late 1940s, when the art circuit was taken over by constructivist tendencies, he continued to produce figurative work. He was never one to follow trends and he was definitely a provocateur with a great sense of humor. He knew how to push traditional São Paulo elite's buttons, but there was nothing crazy or far-fetched in what he was going against, namely the taboos of Catholic religion or any prevailing customs or behaviors that were not grounded in reason.
How many paintings do you estimate he accomplished in his lifetime?
Flávio was prolific in several fields, but he only produced around one-hundred paintings in his lifetime.
The exhibition was first presented at S2 Gallery in London this year. Tell us about the highlights of the São Paulo version. How do the two exhibitions differ?
The São Paulo version includes quite a few important additions loaned from Brazilian collections. The double portrait of Oswald de Andrade and Julieta Bárbara (1939) is definitely one of the highlights. The painting belongs to the collection of the Modern Art Museum in Bahia and has traveled very little in the past. It is particularly significant because it was produced at a moment when Flávio's painting starts to shift from his early style, a more contained type of expressionism with hints of surrealism, to a more painterly type of expressionism with looser brushstrokes and a stronger materiality. It also marks the beginning of his extensive series of portraits, characterized by a non-naturalistic approach that aims to capture the psychology of the sitter. Other important works are some of his early paintings from the 1930s, like "Portrait of Carlos Prado," "Sketch for Miss Brazil" and the wonderful surrealist "Ancestral Portrait," as well as some masterpieces from the 1940s like "Portrait of Nicolás Guillén" and "Portrait of Inge." The exhibition features almost fifty paintings and drawings alongside documents and reproductions of Flávio's architectural projects and experiences.
Had his work been previously exhibited in the UK? What was the public reaction to the show at S2 Gallery?  
The London exhibition was his first monographic show in the UK and it also featured documentation alongside pictorial works. Flávio was completely unknown to the British public, so this was the first comprehensive introduction to his work in the country, and people were really blown away to discover such an important and pioneering artist. We also produced the first publication in English about his works, with several essays covering different aspects of his practice, so hopefully this will help disseminate his work abroad. Flávio will also feature prominently at next year's Berlin Biennial, therefore the timing of the exhibitions in London and São Paulo was quite right, offering an invaluable opportunity to the public to know more about his work ahead of the Biennial.
He lived in England for eight years (1914-1922) and attended the University of Durham as an engineering student. Before the exhibition, did his work feature in any group show in the UK?
The S2 exhibition was his first solo show in the UK, but I could find records of his participation in a group exhibition that took place at the Royal Academy and the Whitechapel Gallery in 1944. The show brought together seventy Brazilian artists who donated works as a diplomatic effort to raise funds to the war veterans; and it was the first exhibition of Brazilian artists in the country. The 1944 exhibition was revisited by former Brazilian cultural attaché Hayle Gadelha and by the senior curator of the Royal Academy, Andrew Locke, in a project that took place in 2018 at the Brazilian Embassy in London. I also found records of a posthumous participation of his works in a group show in 1984 at the Barbican Art Gallery, "Portraits of a Country: Brazilian Modern Art from the Gilberto Chateaubriand Collection."
What would you say is the high point of his career?
I suppose Flávio had several high points in his career, which took place at different times: the first "Experience," the early architectural projects and the play in the late 1920s and early 1930s; his best pictorial work in the late 1930s and 1940s, and the second "Experience" in 1956, where he designed and paraded an outfit for the man of the tropics ("Experience n.3") in 1956.
Is the exhibition at Almeida e Dale planned to travel?
We still don't have any plans to present the exhibition at other venues, but I would love to take it to other parts of Brazil where his work remains largely unknown.
What do you find most fascinating in this prolific artist and what is his most important legacy?
I believe Flávio is an extremely important link between the 1920s avant-gardes in São Paulo and the so-called late avant-gardes of the 1960s, which includes extremely renowned names such as Lygia Clark and Hélio Oiticica. I think his tireless ability to constantly expand our understanding of what can be considered art was an invaluable contribution to the experimentalism of the 1960s that remains unacknowledged to this day.
Excerpts from the 2019 catalog Flávio de Carvalho, from the interview of the artist by journalist Silveira Peixoto, São Paulo, 1942:
Career: 
"My intellectual and professional career has been, since the start, damaged by a blind campaign of sections of society that—with no real reason and influenced by the clergy—felt offended by my book "Experiência Nº 2." I feel that since the beginning of my mental existence, I have been deceived and that my rights as a worker have been stolen."
Babylon, Nietzsche and Freud:
"I was influenced and vividly impressed by the old legends, in particular the old Babylonian legend of creation (…) Visually and emotively I was influenced by worldwide ethnography and its psychological meaning and possible influence on the structuring of the new thought. (…) Many years ago when I read Nietzsche I was heavily touched by his poetic wildness and human essence. Nietzsche became an intellectual beast for me. (…) I read Freud and was touched by the sexual polarization of his ideas.  For me, it was perfectly natural to find the genesis of things in sex. After all, don't we owe our existence to sex?"
Trance:
"The way I best create is when is under a sort of a trance, during which I am completely immersed in the subject I'm dealing with."
Boredom:  
"I think it's a waste of time to provide explanations on my work. My problem in life is always different, very different from the problems of readers and spectators. Actually, I think that my objection to provide explanations mainly comes from the fear I have that I won't have enough time to finish things I have planned and from the boredom I feel when I retrace a terrain that for me has already been exhausted."
Flávio de Carvalho: O Antropófago ideal (The Ideal Anthropophagus)
Through October 19, 2019
Curated by Kiki Mazzucchelli
Galeria Almeida e Dale, São Paulo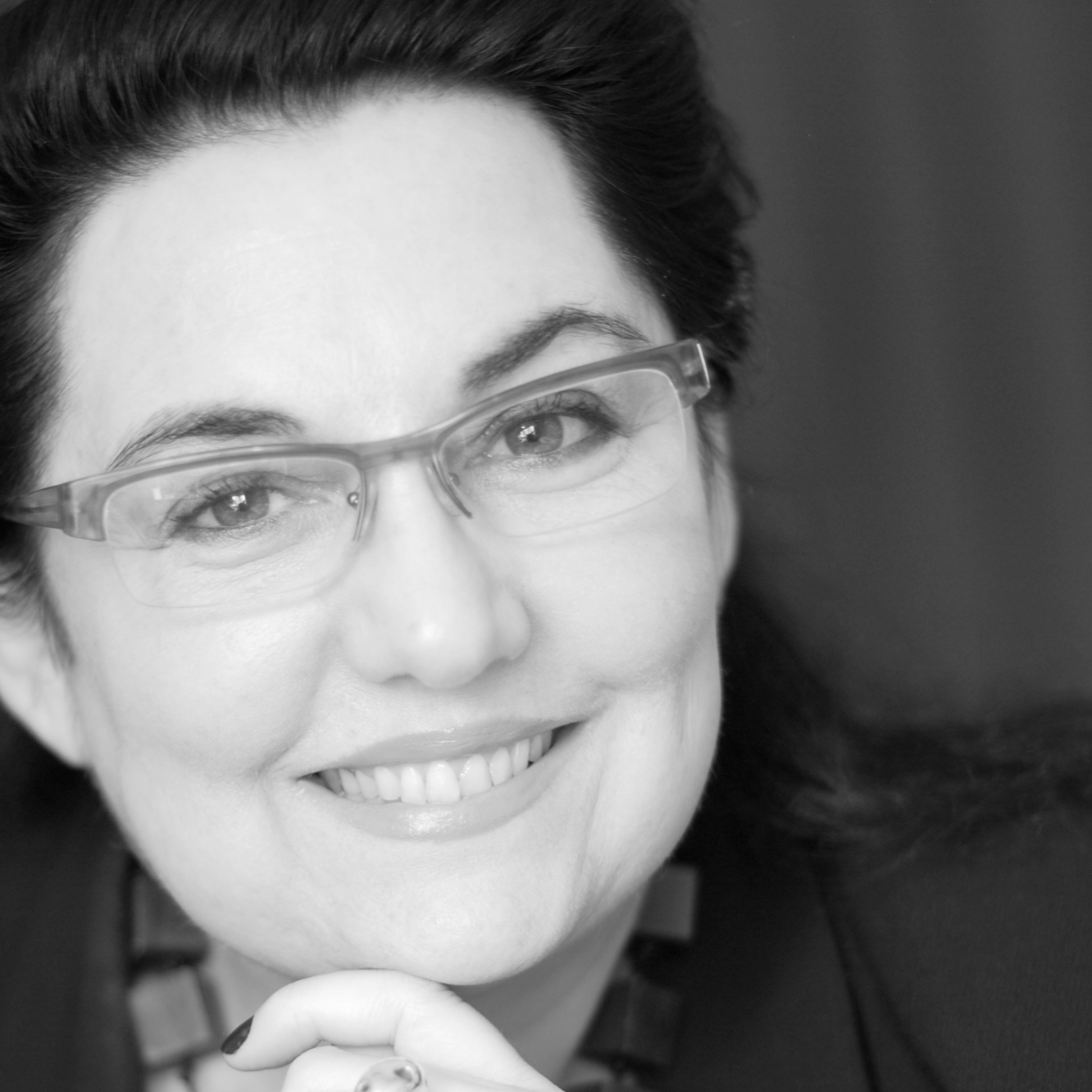 Rio-born Cynthia Garcia is a respected art historian, art critic and journalist fluent in five languages stationed in São Paulo. Cynthia is a recipient of the 2023 APCA (Paulista Association of Art Critics) award as a contributing editor of Newcity Brazil since its founding in 2015. Her daughter America Cavaliere works in the contemporary art market and her son Pedro Cavaliere, based in LA, is in the international DJ scene.
Contact: [email protected], www.cynthiagarcia.biz