In synch with its political resistance, São Paulo's Galeria Vermelho stages "Ka'rãi." The odd-sounding word illustrates the complex concept behind the series of works by politically engaged artist and art teacher Dora Longo Bahia. Begun in 2016, the series on view makes up her ninth show at Vermelho, a shrine for groundbreaking manifestations. This time the in-depth research involved low and high technologies in a poignant critique of Brazil's present scenario, wittily handled by her talent in drawing and painting the human figure. Longo Bahia is also a renowned set designer, illustrator and performer, who defines herself as an image producer.
This radical art provocateur crochets concepts while shedding light on bruising events related to violence, sex and death. To begin with, Ka'rãi means to tear or scratch in the Tupi Brazilian Indian language. It is rooted in the word carcará, a South American vulture similar to the condor, and the bird of prey that not subtly emblazons the logo of Brazil's CIA. The Tupi title is an insight the São Paulo-born, fifty-eight-year-old artist came up with linking the Condor Legion—the Nazi unit responsible for bombing Guernica during the Spanish Civil War—with Operation Condor (1968–1989), a Cold War alliance between the CIA and South American military regimes that killed 60,000 leftist sympathizers and made 400,000 political prisoners.
The exhibition opens with a work splattered over the gallery's black façade. "Fugue (Subject)," a word for escape also used in music, and a reminder she once played in punk rock bands. It is a plain but large, vigorous brush stroke in blood red, that is replaced by augmented reality once you download the artist's app "The Fugue" with a QR code linking to a video of a woman's face in a Munch-like scream. Hanging on a wall inside are ninety-eight twenty-seven-by-eighteen-centimeter paintings over the open pages of local porn magazine Brazil Pocket Hard. It depicts "Lava-Jato," known internationally as Operation Car Wash, which saw former President Lula behind bars. Longo Bahia used the same name for the work representing the numerous phases preceding this dark chapter of Brazilian history. The violent tension builds up on the gallery's second floor where the most inflammatory work is on show, "MASP X FIESP" (2019), a reminder of the protests against Lula's arrest. The sculpture is made up of blocks of cellular concrete topped by Molotov cocktails in four glass bottles, filled with different colored gasoline.
Longo Bahia has had several solo exhibitions in São Paulo, including "Avenida Paulista," MASP museum, 2017; "O caso Dora" (2016) and "Trash Metal" (2010), both at Galeria Vermelho; and "Escalpo Carioca e outras canções" at Centro Cultural Banco do Brasil in 2006 in Rio. The artist participated in the 28th São Paulo Bienal in 2008. In the U.S., the artist showed in the following exhibitions: "Here the border is you," ProyectosLA & Pacific Standard Time: LA/LA, 2017; "Past/Future/Present: Contemporary Brazilian Art from the Museum of Modern Art," Phoenix Art Museum, 2017; "Landscapes After Ruskin: Redefining the Sublime," Hall Art Foundation, Reading, 2016; "Shifting Constructs," Cisneros Fontanals Art Foundation, Miami, 2009; "Farsites: Urban Crises and Domestic Symptoms in Recent Contemporary Art," Centro Cultural Tijuana, San Diego Museum of Art, 2005; and "Scream," Anton Kern Gallery, New York / The Moore Space, Miami, 2004.
The great Nelson Leirner, now eighty-seven-years-old, was among your teachers during art school at FAAP. What is the main lesson you learned from his unique, ironic insights?
Nelson was my most important teacher of all. The utmost lesson he taught me referred to how difficult it is to define oneself in art. He deconstructed all of our convictions, plunging us in a continuous intellectual and esthetic movement.
Who is another artist you greatly admire?
Carmela Gross, an amazing art teacher, is also one of Brazil's greatest artists.
Her work is resolutely political, has a formal precision and is never trapped in proven formulas. She was my supervisor in my doctorate. I'm a fan.
Did the #MeToo movement compel you to create "A Girl A Gun – American Shot"?
No, the #MeToo movement wasn't a reference. It came about because of Jean-Luc Godard's oft-quoted appraisal of cinema, "All you need is a girl and a gun," which some film historians credit to pioneer filmmaker, D.W. Griffith. I'm a fan of Godard, to me the most important artist of our time. He was a revolutionary who always made clear his standing both as an individual and an artist. My research group, Depois do Fim da Arte, whose work is on view in the exhibition Cripta at Galeria Vermelho, investigates the place of the artist that Godard questions in his films at least since "Letter to Jane" (1972). I'm no cinema expert, but film has always been a reference in my work both as an artist and as an art teacher. Along with Godard, I admire the works of directors such as Lars von Trier, John Cassavetes, David Lynch and Michael Haneke, among others.
Tell us about "A Girl A Gun – American Shot."
It is a set of one-hundred-and-ninety-five drawings based on a collection of images from movies where women are wielding weapons, such as "Kill Bill" (2003), "Once Upon a Time in the West" (1968), "Coffy" (1973), "Barbarella" (1968), "O Bandido da Luz Vermelha" (The Red Light Bandit, 1968), "Pierrot le Fou" (1965), "Rape me" (2000), "Thelma and Louise" (1991), "Battle Royale" (2000), "Gloria" (1980), "I was a communist for the F.B.I." (1951), my first feature film "The Dora Case" (2016), etc. In movie jargon, American shot refers to the camera framing the actor from the knees up. It was popularized in westerns of the 1930s and 1940s since it provided a good frame for the genre's culminating scene: the cowboy drawing his handgun from the holster.
In the 1980s you were part of São Paulo's punk rock scene—you did performances and played bass guitar in bands like Disk-Putas, Verafischer e Maradonna, Blá blá blá and Agora Cão. How did this experience contribute to the multimedia artist you became?
I enrolled in night classes at FAAP college in 1980, three years later I was chilling out in São Paulo's underground scene. Those were post-punk, non-binary times. I went to shows, performances, films and clubs like Madame Satã and Carbono 14. In the 1990s I put together my first band, Disk-Putas, a "bitch-core" band with Priscila Farias, Renato Cohen and Marcelona. I don't consider myself a multimedia artist. The word artist encloses all the narratives I delve into. I'm still hooked to the 1970s/80s punk rock scene due to its political discourse, lyrics, behavior, stripped-down instrumentation and simple, anti-establishment, violent music, but I also have references in the realm of the so-called "high culture," like Stockhausen, for example.
Let's move on to the works in your present solo exhibition. In the series of paintings "Fugue (Third Voice)," you give the viewer an augmented reality experience.
"Fugue (Third Voice)" are six vertical canvases with abstract brush strokes on their front faces. Using the app, the viewer is able to see the portraits I painted on the back side of each screen portraying women who were persecuted, tortured or murdered by the military dictatorships of the South American countries aligned with the CIA during Operation Condor: Argentina, Chile, Uruguay, Paraguay, Bolivia and Brazil. With the app, the viewer can also read more about each of these political links and their outcome.
What about the two diptychs, "The Condor and the Carcará" (2019), that are directly related to the exhibition's title.
The work juxtaposes the reproduction of Spanish Civil War rationing coupons and an updated version of it linked to recent Brazilian politics. Both the front of the cards, with iconography referring to the Spanish Civil War, and the reverse side divided into coupons, were changed to include elements from the current Brazilian situation. The works are installed on hinges allowing the viewer to manipulate the pieces.
Explain "Paraíso – Consolação (Project for Avenida Paulista)."
It originally was a project for Paulista Avenue with portraits I drew of men and women from the Amazon basin to be displayed on banners along the avenues central bike-lanes, but that never happened.
"Fogo (Fire)" is another powerful statement that points to the desperate situation of Brazil's cultural institutions. 
It portrays photos of ten cultural institutions consumed by fire in the last ten years, in screen prints on aluminum thermal blankets, the same used by firefighters to protect victims during rescues.
To wrap up, what advice would you give a young, radical artist who wants to break in the art scene?   
Damm!
Dora Longo Bahia: Ka'rãi
Through August 24, 2019
Galeria Vermelho, São Paulo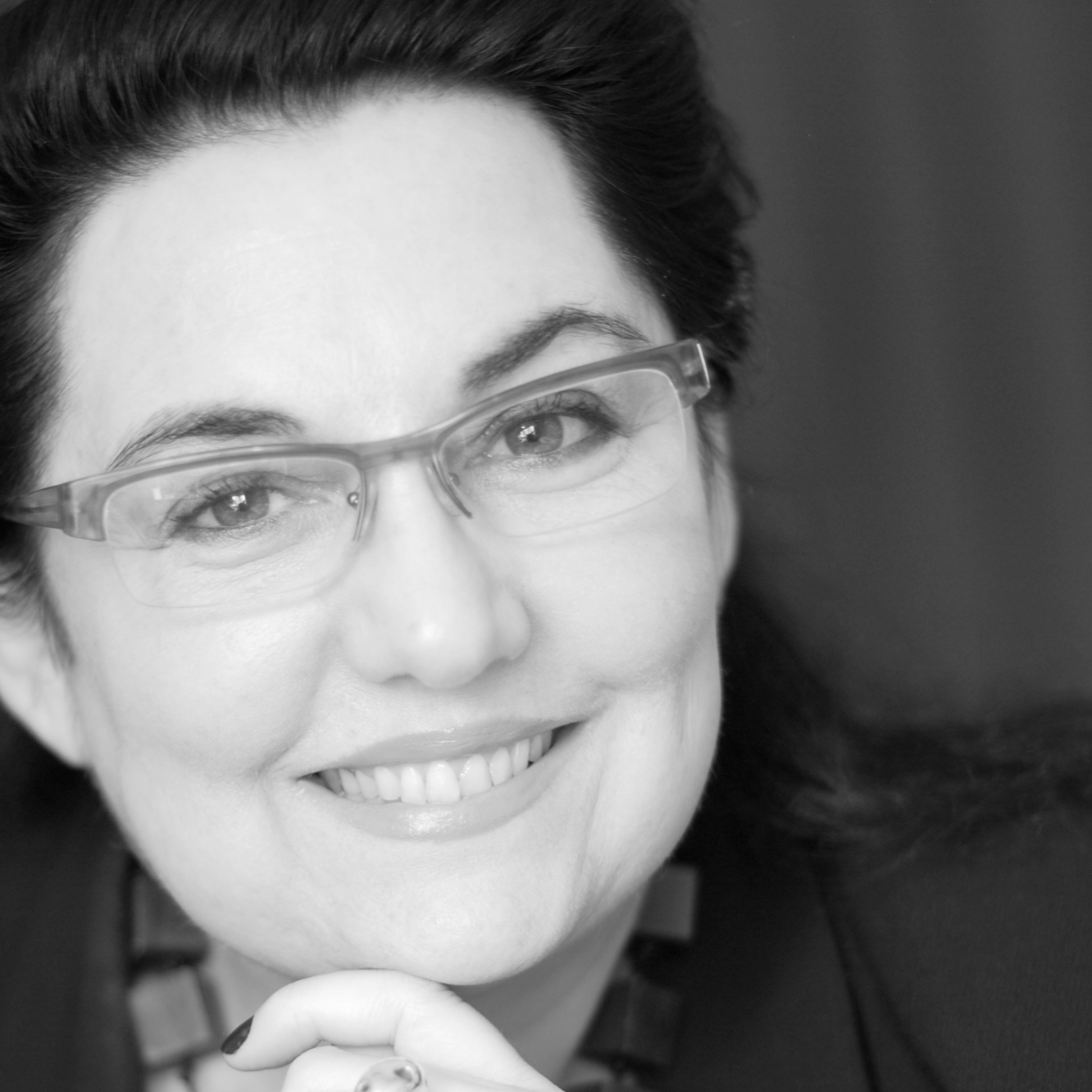 Rio-born Cynthia Garcia is a respected art historian, art critic and journalist fluent in five languages stationed in São Paulo. Cynthia is a recipient of the 2023 APCA (Paulista Association of Art Critics) award as a contributing editor of Newcity Brazil since its founding in 2015. Her daughter America Cavaliere works in the contemporary art market and her son Pedro Cavaliere, based in LA, is in the international DJ scene.
Contact: [email protected], www.cynthiagarcia.biz