The painting exhibition in São Paulo's Fortes D'Aloia & Gabriel Galeria (FDAG), "Crônicas Urgentes" (Urgent Reports), brings together Marcela Cantuária, Maxwell Alexandre and Victor Mattina, a trio just hitting their thirties who live and work in the febrile atmosphere of Rio's fringe neighborhoods, all deeply rooted in the visual culture of their time.
This is no shallow show. These artists prove they have both intelligence and heart, and that painting that flourishes with densely analytical and perceptive observations is alive and well. Like the spiting lyrics of rap music, their canvases  rhyme-bust with the poetics of our contemporary dysfunctional "hive." Despite the aura of menace in their narrative, there is a pervasive sense of beauty bound by pent-up frustration and a fractured auto-fiction where social cruelty is intertwined with individual compassion. Kindled by society's hypocrisy, political revolt and an acute feeling for class struggle, their themes confront the underbelly of Brazil's existential angst from injustice, inequality, racism and violence, to transgenderism and sexism, as well as desire.
We interviewed the three artists individually.
Marcela Cantuária (1991)
Seizes images from personal records, political photographs and documentary film frames to articulate stories depicting powerful and empowered female characters. The artist earned an undergraduate degree in painting from UFRJ's Escola de Belas Artes in Rio. She has participated in group exhibitions in Brazil, and been invited to participate in the collective show Pintura Contemporânea Brasileira at Instituto de América, in Granada, Spain, in 2019.
Marcela, is your work political?
Absolutely. In revolutionary moments, art has always been the most potent subjective tool in movies, theater, graffiti and the visual arts. In the social hierarchy, art should always move bottom-up. In my political imagination as a painter, I aim at a symbiosis of figurative painting and the strengthening of people's fight for their rights.
Who are the artists that influence you?
Mexican muralists, modern Russian poets, Chilean composers, Italian Marxist sociologists and the fertility of Brazil's cultural diversity. My esthetic reflection sees no boundaries.
Now tell us about your paintings in the exhibition.
They are committed to give a voice to the narrative of Rio's oppressed population as well as its international counterpart. The main figures are always women who denounce and yearn for the utopia of witnessing the transformation in our communities. My work is about memories and the people's fights while taking into consideration the genre factor: the revolution within the revolution.
Maxwell Alexandre (1990)
Reproduces chronicles from his daily life in Rio and at the Rocinha community, where he was born. His visual vocabulary profiles scenes and characters usually invisible to society at large. He has an undergrad in design at PUC-RJ, and emerged in the art scene after taking part in 2017 in the open call project Carpintaria Para Todos at Carpintaria, FDAG's multidisciplinary space in Rio. In 2018, he participated at the group show "Histórias Afro-Atlânticas" at São Paulo's MASP museum. His work is already in the museum collections of Pinacoteca, MASP and Rio's MAR.
Maxwell, is your art political?
Yes and no. Every repetition risks being transformed in conditioning because conditioning is repetition. When you hear art is for everyone and it is going to save the world most probably those that believe it are conditioned and devoid of self-criticism. This posture is echoed in a system—critics, gallerists and curators—that legitimates what is considered "good" art. Most artists' production abides to these rules because they want to be at the galleries, museums, biennials… Of course, I recognize their importance, but the system blocks the artist and, consequently, the social change that art can ignite. So I question myself: this social change is for whom? Is it for those that have access to these institutions? For those who learned the codes of contemporary art? So is art really for everyone? In my work I try to compromise myself in this direction. My personal biography is in itself a reflection of all this.
Who are the artists that influence you?
Raoni Azevedo, Eduardo de Barros, Primo da Cruz, Samal Silva and Lucio Fontana.
Now tell us about your paintings in the exhibition.
I shall start with an untitled work made from newspaper. Before I could provide for myself only with my art, I worked for a digital marketing company where I was behind the ads of a car-tire shop that had in its logo a mascot with white skin. For two months, without telling no one, I manipulated the tone of the mascot's skin very subtly, a little darker every time, to the point the mascot became black. This narrative deals with the insertion of people of color in society. The company only noticed when the mascot had turned black. Their reaction made me realize we have the habit of making up our minds and not looking into it again. As artists we should beware not be trapped into conditioning because we have to keep our investigative eye wide open. My other two works at FDAG were influenced by artist's Arjan Martins' paintings because I exhibited with him at the stand of A Gentil Carioca gallery this year at SP-Arte. Arjan, like myself, is an afro-descendant artist who paints the caravels of the slave trade in our colonial past, based on this and in an analogy to today's "caravels," I took my narrative to our public transportation: bus, subway, police car, etc.—the ways people of color are transported with no comfort in todays' contemporary caravels.
Victor Mattina (1985)
Uses images from the Internet, as well as old books and magazines. With this compilation, he then produces an image atlas of characters from different contexts that range from S&M to ethnography. His recent paintings investigate relationships between authority and alterity, paraphilia and rituals, highlighting characters that transit through deviation and dissent. He holds an undergrad degree in design from Rio's ESPM-RJ, and in 2017 held two solo shows:  at Fundação Joaquim Nabuco in Recife, and at Paço Imperial in Rio.
Victor, is your art political?
Life is political in itself. I try to paint things that disarm me and are able to disarm others from their own convictions. I want to flee the buzz, to get rid from this unending bubblegum chewing that fools your hungry stomach and only secretes more gastric juices. The air has become caustic. I want to bring to light what transcends, what needs a voice.
Who are the artists that influence you?
I'm fascinated by Belgian painter James Ensor.
Now tell us about your paintings in the exhibition.
"Alana" is a portrait of a transsexual and "Tenência" (Lieutenancy) of a military man. I don't know either of them nor do I know their names. The other five paintings depict masculine, feminine and neutral figures with their bodies covered with masks, ritual dress and clothes in synthetic fabrics.  The level of anonymity on these figures purposely swings between erotic fetishism and ritualistic trance. They discuss the misunderstanding murkiness, now present in our society, of things that were once hidden and are now visible to all.
Crônicas Urgentes (Urgent Reports)
Through December 21, 2018
Fortes D'Aloia & Gabriel | Galeria, Vila Madalena, São Paulo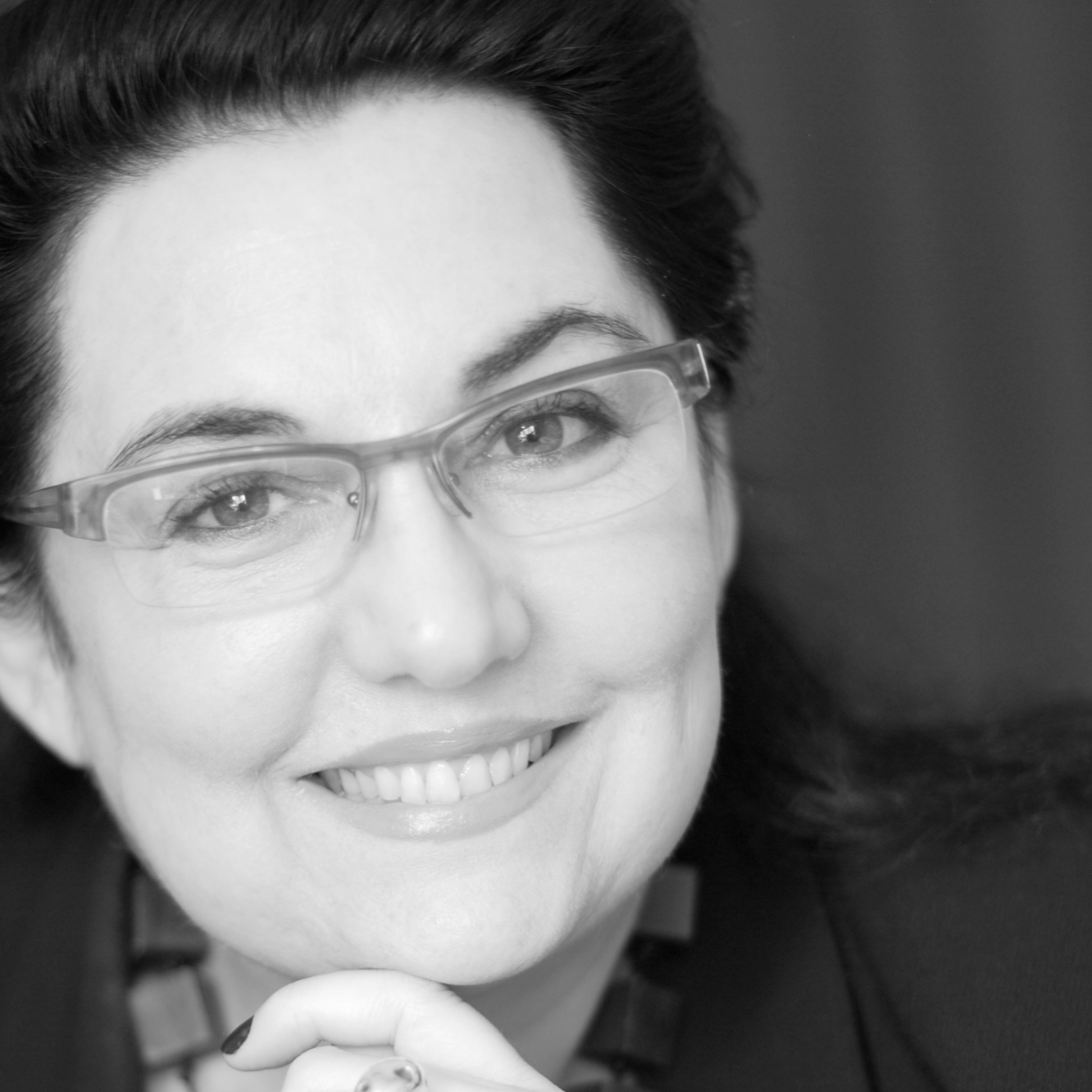 Rio-born Cynthia Garcia is a respected art historian, art critic and journalist fluent in five languages stationed in São Paulo. Cynthia is a recipient of the 2023 APCA (Paulista Association of Art Critics) award as a contributing editor of Newcity Brazil since its founding in 2015. Her daughter America Cavaliere works in the contemporary art market and her son Pedro Cavaliere, based in LA, is in the international DJ scene.
Contact: [email protected], www.cynthiagarcia.biz