It has been three years since São Paulo-born Elisa Bracher invaded the pristine white first floor of Galeria Raquel Arnaud with "Luctus Lutum" (the title in Latin for mourning and mud), a maze-like massive adobe in-situ installation in the tradition of a wattle and daub mausoleum that the artist built to mourn her mother's death. Now the fifty-three-year-old multimedia artist, best known for her grandiose minimalist sculptures, returns with a tripartite solo exhibition charged with subtle sexual innuendo, "Encarnadas" (Incarnated), that includes large drawings, small sculptures and a video.
Thirty drawings endowed with overpowering simplicity are displayed on white Japanese rice paper in sizes ranging from A4 to large three-by-2.10-meter sheets. Hanging from the ceiling in an acrylic sandwich frame placed away from the wall, they impart a fleshy female translucency to the gallery's white cube. These ample, gestural abstractions free from geometric forms are restricted to three colors: nuances of blood red (encarnada in Portuguese, also means red), a moist sienna and jet black. The spellbinding effect is obtained from lithographic chalk, oil stick and heavy paints used in metal engraving, another craft Bracher excels in. The artist's robust tridimensional oeuvre juggles balance and fragility. This tension is striking in the six phallic compositions of wood, stone, marble and blown glass. Also on show is the "Encarnadas" video on the second floor of this bastion of minimalist art.
Bracher's bulky sculptural work is known for being deferential toward the materials she employs, better said in French, "dans son jus," that is, in its (quasi) original condition. This rawness is also witnessed in her large public wooden and/or stone sculptures, such as the thirteen-ton wooden trunks of "Embrionário" (2003), and in her largest stone sculpture, "Equilíbrio Amarrado" (2004), a grouping of marble blocks in a six-meter-high harmonious tension. Since 2017, both are displayed amid the tropical park of the Inhotim Contemporary Art Center in Minas state.
Her most important solo exhibitions to date have been "Madeira sobre madeira" (Wood On Wood), wooden sculptures shown at the Pinacoteca do Estado, São Paulo, 1999; "Extra Muros," wooden sculptures displayed at Paço Imperial, Rio de Janeiro, 2001; "Maneira Branca" (White Way), engravings shown at Estação Pinacoteca, São Paulo, 2007; and "Ponto Final sem Pausas" (Full Stop without Pauses), at Rio's MAM museum in 2012. The artist has exhibited in Latin America and Europe but has yet to show her work in the States. She also acts as an educator and is one of the founders of Instituto Acaia (http://acaia.org.br/), an NGO focused on activities for impoverished communities of São Paulo, which was granted the 2008 award of The Urban Age Deutsche Bank / London School of Economics.
In August at Galeria Raquel Arnaud, Elisa Bracher premiered "Que Língua Você Fala?" (What Language Do You Speak?), a documentary she directed on the world migrant problem with interviews in Brazil, India and England. At the closing of the exhibition on September 1, the artist will launch the book "Encarnadas" (Editora Bei) on her recent production.
Elisa, how do the several manifestations you work with—drawing, engraving, sculpture, installation photo and video—interweave between themselves and feed your art?
My constant themes are: balance, weight, landscape and body. My work in my studio is primarily to look at spaces and materials we find everywhere. I look at them, reflect about them, and try to put together images that come up in my mind. Then I draw or pile up chairs and rocks, and the works begin to come up. Video is something new to me; I longed to face this challenge and it finally sprouted. I concentrate on a few things but they are achieved in different ways.
What took you to this path?
From the onset I wanted to be a psychoanalyst but I didn't pass the psychology exams. Another option I envisaged was pedagogy but the college was very weak; I gave up. So I moved to art school because I was attracted to graphic art. In an internship in an advertising agency I found out about printing and that led me to study engraving, and I found myself an artist.
How do you define yourself?
What I enjoy is to make and build things. My favorite verb is to build. In my studio I try to build things that come the nearest possible to what I originally imagined. I am no good at conceptualizing and concept does not interest me in the least. Once in college, I asked a teacher: "When does one become an artist? When you make an art exhibition? When you get your diploma form art school?" I am still searching for the answer. After I do an exhibition, I always think I will stop being an artist. The voids in the artistic practice are deeply distressing.
Who are the artists you admire?
Goya, Goeldi, Richard Serra…
In the nineties, how did sculpture come about in your work practice?
At the time, I had a strong desire to be able to see loose lines in space. I was working on engraving, drawing long lines that cut through space on two-to-three-meter-long white paper sheets. One day, observing one of my engravings, I felt the line should have no support to back it and that led me to my first sculptures with copper threads. When I sensed I wanted to give volume to my work I moved to wood, and it all began.
Some of your sculptures are colossal pieces. To this day what is your largest work?
It was "Ponto final sem pausas," an installation in lead. It is disassembled in my studio. I never know any measurement of my works since I do not work with projects.
Are your wood sculptures from certified wood?
I use several types of Brazilian certified wood from Alto Guaporé in upstate Rondônia on the northwest Amazonian region: angelim, garapeira, ipê, peroba, eucalyptus, mahogany…
Now tell us about your photo series "Campo de Sinos" (Field of Bells), shot in the Arctic in 2014.
It was a three-week artist residency program in the Arctic called The Arctic Circle. The photos I shot there are part of an ongoing work I am doing hand-in-hand with musician and conductor Rodrigo Felicissimo entitled "Espelho das Montanhas"(Mirror of the Mountains) with photos, drawings and music composition. The music is a development on a technique invented by Villa-Lobos (Brazilian composer, 1887-1959) named "Melodia das Montanhas"(Mountain Melodies).
Now let's move on to your current exhibition, "Encarnadas," on which you began working in 2008. You mentioned you do not like to conceptualize, so how do you explain it?
I have always worked in large-scales pieces. The entire series has over four-hundred drawings in different sizes. It all began nine years ago when I was asked to do a large sculpture project on pink marble. I do not know how to do projects and never had before, so I started by drawing in red trying to leave behind the geometric form. I like the density of paints, its resistance to gesture so for the blood red, I used oil stick to achieve an effect of a breath of life. It is no easy thing to work on Japanese rice paper; depending on the amount of paint, it may take a year to dry out. I do not paint on the wall, instead I work over large glass-top tables supported by architect's table stands. "Encarnadas" is an attempt to escape from the geometric form, get away from the color black and approach me to the body. It has little to do with my previous works.
Was the impressive exhibition "Luctus Lutum" (2015) your last show before the current "Encarnadas"?
Yes, and before that it was "Ponto final sem pausas" (Full Stop without Pauses), in Rio's MAM in 2012. Unknowingly, "Luctus Lutum" was the tool I had to deal with my mother's death. It is one of the nice things in art, I never know which part of my soul I am dealing with until the work is finalized.
After three decades dedicated to the arts, what advice do you give a struggling young artist?
Technique is crucial. Discover what tools you want to work with, understand them to make the most out of them and adapt them to your soul's desires.
Elisa Bracher: Encarnadas (Incarnated)
Through September 1, 2018
Curated by Elisa Byington
Galeria Raquel Arnaud, São Paulo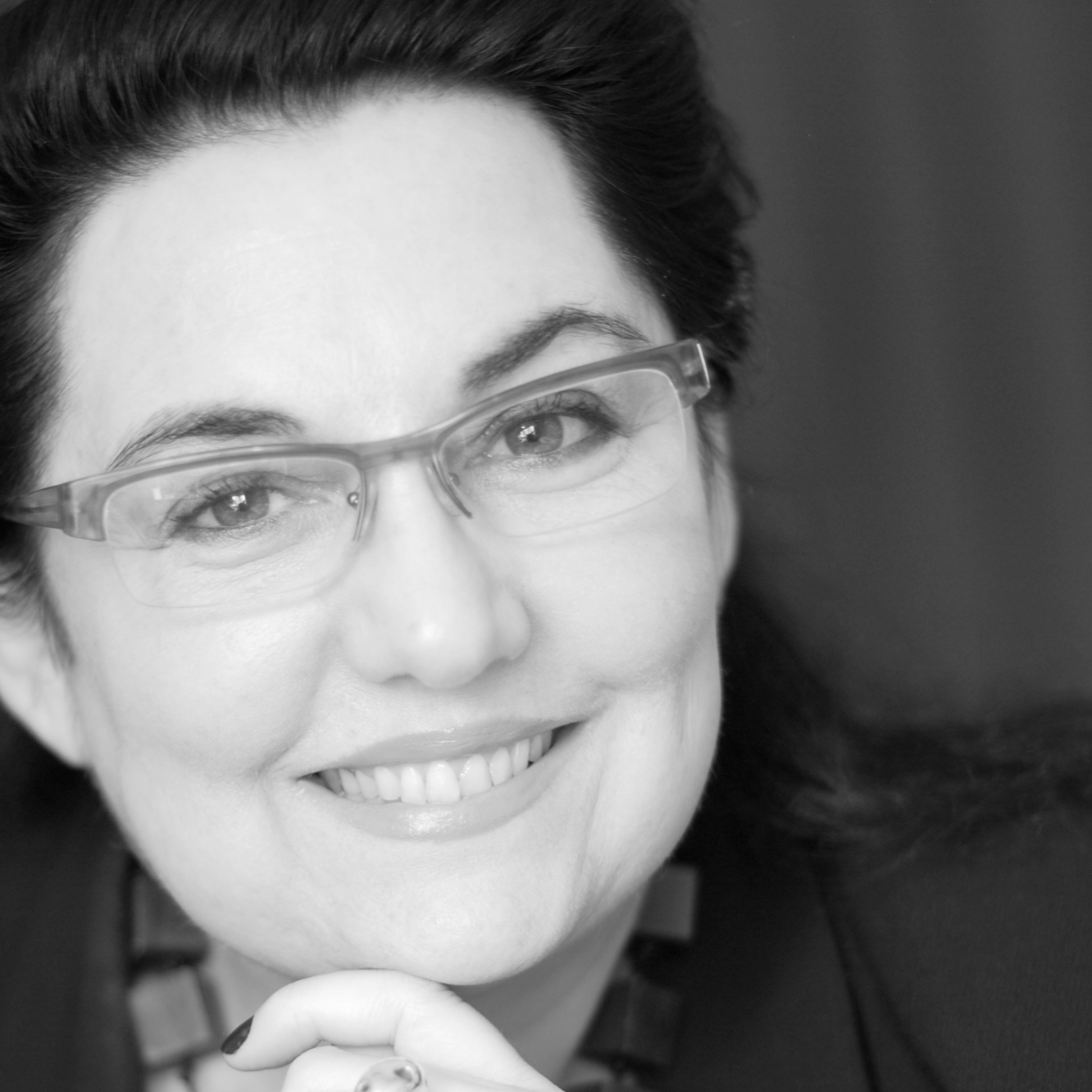 Rio-born Cynthia Garcia is a respected art historian, art critic and journalist fluent in five languages stationed in São Paulo. Cynthia is a recipient of the 2023 APCA (Paulista Association of Art Critics) award as a contributing editor of Newcity Brazil since its founding in 2015. Her daughter America Cavaliere works in the contemporary art market and her son Pedro Cavaliere, based in LA, is in the international DJ scene.
Contact: [email protected], www.cynthiagarcia.biz