Galeria MaPa shows artist Roberto Micoli's exhibition "Árias Cinzentas" through November 17. While his four-decade oeuvre is notable for his expert use of color, Micoli mesmerizes the viewer with a sublime ode to black-and-white over a softer-patterned, more diffused geometric painting, hence the mysterious operatic title, which means gray arias/areas. The solo show displays a group of twenty-six recent canvases, most of which directly hang on the wall unframed, with his characteristic cutting, knotting, hand-stitching and painterly elegance.
"Roberto Micoli's works have been influenced by everything from Mark Rothko and the minimalist constructivism of Swiss-Brazilian artist Mira Schendel to tribal art of Brazilian Indians and Nepal as well as Zen Buddhism. In many aspects he is a unique artist since he has always been a self-confessed, reserved person; however this trait of his personality has not refrained his art from being highly admired by collectors," says the exhibition curator João Pedrosa, who has been closely following the four-decade trajectory of the sixty-four-year-old Brazilian artist.
Roberto, in your 2010 book by Bei Publishers, the epigraph is Walt Whitman's opening verse of "Song of the Open Road" which also inspired Kerouac: "Afoot and light-hearted I take to the open road." In an interview in the book, you refer to yourself as a "savage," as in Rousseau bon sauvage, and to this day you have not entirely yielded to art-market conventions. In your heart are you still that 1980s handsome punk rebel with a black leather Perfecto jacket?
(Smiles.) When I mentioned savage I referred to an innate, hard-to-control rebelliousness that looked at the art market with hesitation. In truth, I still find it uncanny; it still does not reach my comfort zone. In the 1980s, my gang was a defying crowd. I was part of the young generation in that historical turning point: half hippie, half punk, an outcast and a dreamer. Looking back, it is clear that I took to organizing my inner chaos through my work by leaving figurative art behind and embracing Abstract-Constructivism.
Explain the roots of your work.
My work is rooted in Constructivism however I am not a radical adept of the group's theories.  Many things influence me: nature, primitive art, ancestral art, African art as well as the beautiful geometry in Brazilian Indian art, etc… There are nods to Mondrian and to some Brazilian artists: Mira Schendel, Antonio Dias, Volpi and a few others. Art helped me find a personal narrative that enables my communication with the world.
You mentioned the influence of Brazilian Indian and ancestral art as seen, for example, in your 1994 "Pequeno Cocar"[Small Indian Headdress], your totem poles, pirogas [canoes], necklaces, boomerangs…
The fact that indigenous art is a process of construction made part by part, by joining fragments to create a whole, attracts me very much. I admire this concept of reuniting small parts to render the whole a new significance. Indigenous people bear this in mind while creating their applied arts. It is a way to connect it with their daily chores as well as to tie in to their social system and ancestral roots. When you correlate these concepts in contemporary art, the work is imbued with a new meaning. I believe only art has this power. Someone once said the artist is the shaman of the contemporary world, I totally agree.
In 1990, in the realm of indigenous art, you created the public installation "Grande Cocar" [The Big Indian Headdress], a suspended undulating structure for the República subway station in São Paulo's old city center.
I was honored to be among the artists selected to create a work for the city's main subway stations. It is a suspended undulated sea-wave-like structure positioned over the stairwell where thousands of people go through everyday. Due to its dimension it had to be practically all built on site—a two-meter-by-twenty-five meter-long structure in naval compensated wood coated with resin and acrylic paint. It took over a month to finish with the help of several professionals. The installation also has an old Indian hatchet.
So, what took you to the arts and are you self-taught?
Differently from the other kids who loved playing soccer, I was very shy and loved drawing. I am a self-taught artist. My father was a draftsman; he encouraged me to draw and taught me the basics about the tools of the trade.  I drew my first works on my dad's graph paper in the 1970s. The first one I ever sold was to a girlfriend, with the money I paid what was left of my dentist bill.
One issue that stands out in your artistry is the pleasure you find in the meticulous craftsmanship of your art. Tell us about Micoli, the artisan, who processes the thorough "construction," as you call it, of your own canvases cut, painted, sewed and tied together by your own hands.
I love the craftsmanship involved in my work: all the cutting, painting, sewing, knotting, tying, gluing, arranging it all together and then beginning all over again. This continuum process of making represents an ancestral action, at the same time  it is an exploit in simplicity that I make a point to preserve. It harmonizes my inner self, makes me more humble and appreciative. It challenges, dismantles and shakes my rationality.
Now tell us about your screen paintings.
I always saw screens as the possibility of the canvas breaking from the hang in the wall. In the beginning, I made them from A to Z in my studio. Nowadays, they are a partnership I have with Etel Carmona's design studio following the concept of the applied arts of Brazilian modernism in the path of John Graz and Flávio de Carvalho. I paint the canvases and her cabinetmakers produce the certified wooden framework. The right side bears the painting, while the backside is all wood.


Another aspect of your works are the personal, psychological word puzzles canvases; for example, the two-meter-long "Mea Culpa" (2004).
"Mea Culpa" is a highly psychological work. It is a construction based on two-syllable verbs always in the first person. It was a dive in my soul, thus the Latin expression  mea culpa. Visually it honors Italian Arte Povera artist Alighiero Boetti, a great outspoken political activist, my total opposite since I'm an introvert, a reserved person. The use of words reflects my passion for poetry. Some poems lead me to an  altered, meditative state.
How about the recurring tridimensional theme of your  "foursquare" canvas houses?
I made my first "foursquare" house in the 1990s; it was all painted in gold. I enjoy the Jungian symbolism of the house as the self. My houses are made of canvas, they are light and soft to touch.
Now let's move on to your "cloaks." Do they have any relation to the Parangolé capes of Oiticica?
My cloaks refer to the ceremonial dress used by shamans. I see them as objects of power and reverence, different from Oiticica's Parangolés which were made to be worn when dancing. Some of my cloaks are made from small pieces of canvas painted and tied together; others are entirely woven with bird feathers like my 1997 "Capa de Penas" (Feather Cloak). It was made of hundreds of bird feathers collected from the São Paulo Zoo. I explained to the IBAMA [Brazilian Institute of Environment and Renewable Natural Resources] I hadn't killed any bird, they were collected in the cages during the seasonal molting when birds shed their old feathers. The IBAMA gave me an official authorization allowing the work to travel in Latin America in an itinerant collective exhibition promoted by MAC/USP [Musem of Contemporary Art of the University of São Paulo].  Presently, the work is being recuperated due to an insect attack, a constant problem in feather art.
Finally, where does your fascination with color come from?
When I was I young I was fascinated by Antonio Peticov's psychedelic realism exploring the seven colors of the visible spectrum. I got hooked in colors and have been using it since also as a personal therapeutic tool. It frees me from my rigid rationalism, involves me in a chromatic immersion. I believe my work has this effect on others.
But in the case of your present exhibition at MaPA your works are all in black and white.
It was quite challenging to make an all black-and-white exhibition. Of course, I had worked on black-and-white-only paintings but never before a whole exhibition. However, when I saw them all hanged in the gallery it conveyed to me an almost solemn, religious atmosphere. Meanwhile, it reaches out to the current existential nihilism the world is immersed in.


To round up the interview, what do you have to say for a young artist?
Throw yourself in art without fear and without hope. To win over the market is a mere prize, nothing more. Work on your art, do it, but always ask yourself two questions: why am I doing this? For whom am I doing it?
"Roberto Micoli: Árias Cinzentas" (Gray Arias)
Curated by João Pedrosa
Through November 17, 2017
Galeria MaPa, São Paulo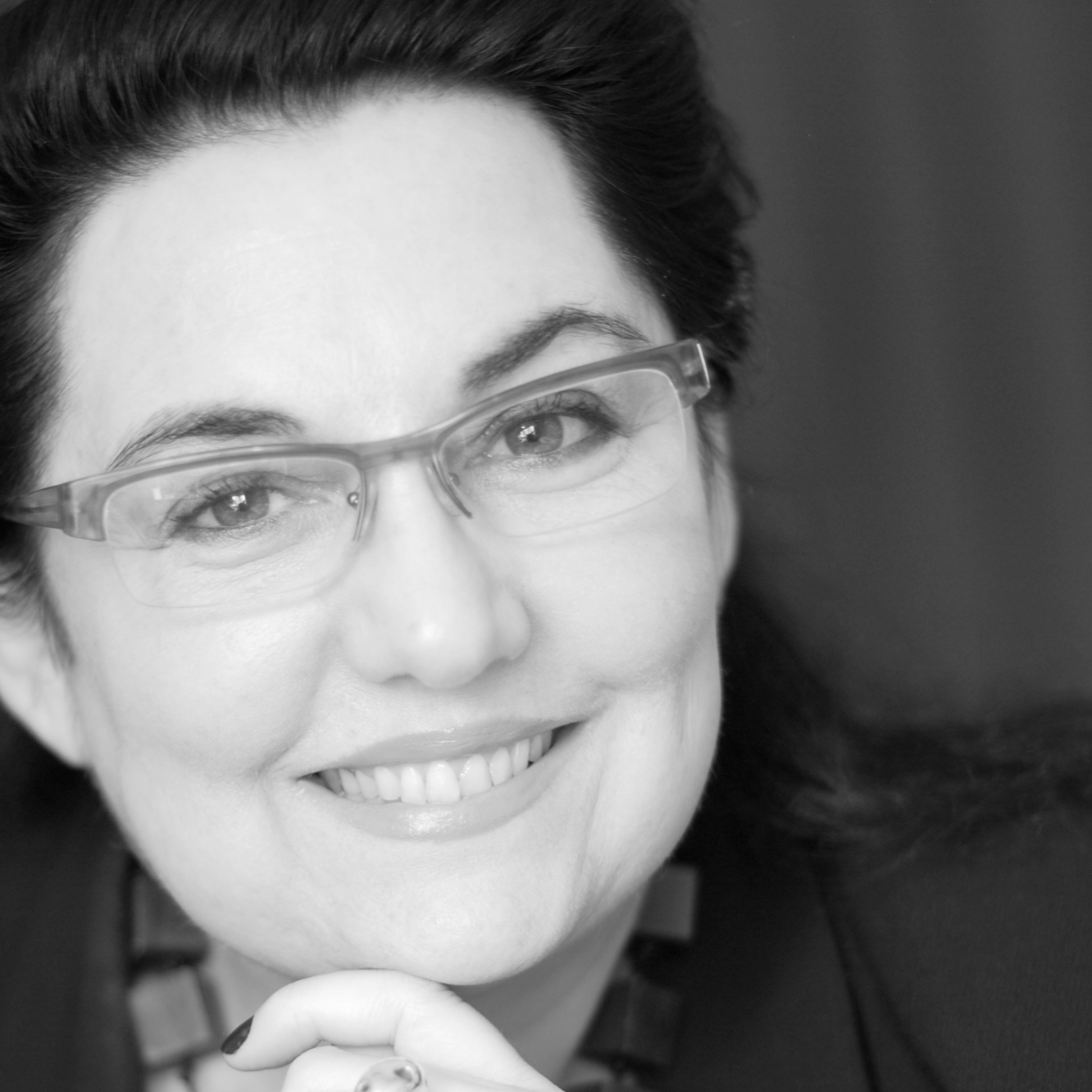 Rio-born Cynthia Garcia is a respected art historian, art critic and journalist fluent in five languages stationed in São Paulo. Cynthia is a recipient of the 2023 APCA (Paulista Association of Art Critics) award as a contributing editor of Newcity Brazil since its founding in 2015. Her daughter America Cavaliere works in the contemporary art market and her son Pedro Cavaliere, based in LA, is in the international DJ scene.
Contact: [email protected], www.cynthiagarcia.biz