"Tomie Ohtake: nas Pontas dos Dedos (Color on her Fingertips)," at São Paulo's Galeria Nara Roesler, exhibits works created from 1965 to 1986 by the grand dame of Brazilian abstract art who passed away at the age of 101 in 2015. Paulo Miyada, a curator at Tomie Ohtake Institute, is responsible for this beautiful and revealing exhibition that brings to light for the first time her neatly organized notebooks with cutouts that offer insight into the work process of this master of color and form.
"Tomie Ohtake is an enchanting Japanese lady born in the city of Kyoto…" is the opening phrase of the artist's bio written by her friend, the art critic Olívio Tavares de Araújo, for the children's book "Drop of water"(1995), a small jewel written by psychoanalyst Alberto Goldin and illustrated by her abstract paintings. The English version was launched at PlayPen School, where my then-eight-year-old daughter America studied; she proudly keeps a copy with Tomie's personalized signature. As Olivio wrote in the artist's bio:
"…Tomie came to Brazil in 1938 to visit a brother who lived here. She had no intention of staying but World War II held her back. Lucky us! (…) In 1952, Tomie began painting landscapes of the Moóca neighborhood where she lived but soon embraced abstract painting (…) Very refined in her art as in her life, she now lives in a beautiful exposed concrete house designed by her son Ruy with a big studio with glass screen doors looking onto a garden and a pool. (…) She still has a strong accent and searches for the best expressions in Portuguese. Truth is Tomie's best expression are the forms and colors of her work, so organized, so sensitive."
We interviewed the curator Paulo Miyada about this new exhibition.
Paulo, how did you meet Tomie Ohtake?
It was in 2010, when I started working at Instituto Tomie Ohtake to coordinate the then-recently created Research and Curatorship Nucleus. In 2013, we became close during the preparation of two exhibitions we organized to celebrate her 100th birthday. I was able to interview her, visited several times her studio in her home, along with Carolina de Angelis [the current associate curator of the Instituto]. That is when we found her notebooks with cutouts, the guidelines of the present show at Galeria Nara Roesler. Tomie Ohtake wasn't a talkative person; her Portuguese carried a strong Japanese inflection, mixed with some Japanese expressions, specially when she was talking to her sons Ruy and Ricardo Ohtake. [Ruy is an architect and Ricardo presides over Instituto Tomie Ohtake].
Did you speak Japanese to her?
I am sansei [from Japanese grandparents] so we exchanged the traditional Japanese greetings to begin or end our talks together.
Tell us of your admiration of this master artist.
It always amazed me how much effort she put to remove anything that could  intervene between her and her oeuvre and the public. She would do anything to remove an obstacle that kept her from working. If she felt she as a person—since she was very well known—was eclipsing her work, she would become even more discrete than usual.
What is your most vivid memory of her?
It was when she ended the works of her last series, the white monochrome paintings she produced between her 100th and 101st birthdays. She asked us our opinion and, after being lauded, she said: "Okay, now you can criticize, tell me the truth." She was aware her figure caused respect; however, she wanted to hear unfiltered comments. Some months later, she decided her oeuvre, family and life responsibilities were concluded and passed away in peace. I had the honor to organize the Tomie Ohtake exhibition 100-01 in 2015, at Instituto Tomie Ohatke, with the white monochrome paintings.
Now let's move onto the show. One of the things that distinguishes this exhibition of Tomie's paintings is delving into her work process. Tell us about it.
Between the 1950s and 1960s, Tomie Ohtake's first venture into abstract painting became known for its "blind" character; infused with an intense, spontaneous and informal quality, which often relied on brushstrokes made, literally, with her eyes shut, following a suggestion by art critic Mario Pedrosa. Soon after that, in the first half of the 1960s, her paintings condensed into clearer shapes, as the artist began to favor compositions where figure and background are clearly distinct. These figures resemble simple geometric shapes, but their outlines flicker as if "torn" with the tips of the fingers. Few people are aware that this is not a mere illusion. At that point in time, the artist began to produce studies using color paper from hand-torn magazines. It was her way of dealing with the instantaneity of gesture and infusing the entire painting process with chance and control.
Now tell us about the small collages meticulously created to guide her like a story-board before invading the surface of the canvas with paint.
The compositions Tomie Ohtake identified in these minute collages worked as "scripts" for paintings and prints that experimented with different scales and chromatic combinations. It was as if the clipboard that held her paper cutouts was a mining site for shapes and color combinations. In the 1970s, as her paintings began to depict clear-cut forms, her studies also changed and the artist began to use scissors to cut paper. The compositions grew denser, the whiteness [the blank sheet] encroached by areas of color, occasionally suggested landscapes. Surprisingly, the texture in the paintings often emerge from the collage itself, appropriated from assorted photographic materials. The color palette also expands, as it faces chromaticism during an era that flirted with psychedelia. Ohtake relied consistently and recurrently on collage studies until the mid-1980s, when her painting gradually adopted an atmospheric quality as she embraced acrylic paint, following small-scale paint studies.
In the exhibition, we learn the first written mention of her collage studies was in 1982, in the article "Tomie Ohtake: à procura da essência da arte" by Miguel Chaia, published in the seventh edition of Arte em São Paulo magazine.
Chaia interpreted her reliance on torn and cut paper as a way to imbue an initial idea with an element of chance, juxtaposing reason with organic gesture. In addition, he also provided a clue as to why this material is yet to be recognized as a key element to understanding her abstract output. He wrote that Tomie Ohtake does "direct painting", i.e., a brand of painting that does not veer off into any aspect other than the intrinsic properties of painting: composition, color, materiality, the frame, pictorial spatiality and so forth. Any other meanings or readings have always been left up to the public: Ohtake would leave her works untitled, and whenever someone would tell her they'd found figuration in her pictures (a mountain, a planet, a body) she would never deny or confirm.
So her collage studies were behind-the-scenes information?
She didn't conceal it, after all, she supplied illustrations for Chaia's article, and the following year, the publication released in connection with her São Paulo Museum of Art (MASP) exhibit featured photographs by Ricardo Ohtake showing her handling them. She did not say much about her processes, but neither did she allow these materials to become completely lost: she kept some of them pasted onto the pages of a notebook and agreed to show them in one of her centennial exhibits, "Influxo das Formas," Tomie Ohtake Institute, 2013, curated by Agnaldo Farias and me.
Now please explain the abstract art experimentation in post-war Brazil versus concrete art going on simultaneously.
It happens that, although abstract art encompassed artists as diverse as Manabu Mabe and Antonio Bandeira, informal abstraction should not be regarded simply as the opposite of the progressive, rationalistic, cosmopolitan rhetoric of Brazilian constructivist projects. Firstly, because informal abstraction was a cosmopolitan trend, attuned to the international mindset. In Brazil, specially, this is relevant since surrealism was not widespread. In this broader context, Tomie Ohtake identified herself with informal abstraction, especially at the time of the "blind paintings" mentioned earlier. Those were the only years of strict informalism in her work, since she would soon veer into researching unmistakable, planned-out forms, through her cutouts. It is worth noting that at that time she drew close to critic Mário Pedrosa and artists Willys de Castro and Hércules Barsotti, who were closely connected with neoconcretism.
How would you analyze this exhibition?
In the paintings and engravings that constitute the core of this exhibition, one will find a wide array of compositions and solutions that involved Tomie Ohtake's collages. In some of them, the similarity with what one finds in the colors, shapes and textures of paper is impactful. In other ones, one can intuit the processes of experimental rearrangement of colors and proportions that the artist would carry out in developing canvases and prints. These artworks—which span decades of production—constitute indications of restless pictorial thinking.
How do you explain her bold use of color?
In the color range she explored there are no taboos: dim ochres are game, as are vibrant tertiary colors, so luminous as to seem fluorescent. Tomie Ohtake was a one-of-a-kind colorist, and the 1970s were her boldest phase in this regard. Compared with the relatively narrow scope of her generation's chromatic repertoire, Tomie Ohtake stands out as a trailblazer who left a legacy of disruptive precedents to the generations that followed.

And her peculiar repertoire of shapes?
At first glance, this may seem like a cohesive field with limited variations, but what Tomie Ohtake did was to intensely vary the relationship of the curve with the edges of the pictorial frame. Thus, the canvas might behave as a landscape or a lens, the outline of a body or the schematic description of an obelisk. Point and field. Phallus and vagina. Landmark and chasm. These are spatial archetypes—rather than figurations—achieved through the formal arrangement of color fields. As a result, Tomie Ohtake also left us a legacy of invaluable reflection regarding the pictorial dynamism and the spatiality of abstract painting.
Tomie Ohtake: na Ponta dos Dedos (Color on her Fingertips)
Curated by Paulo Miyada
Through September 30, 2017
Galeria Nara Roesler, São Paulo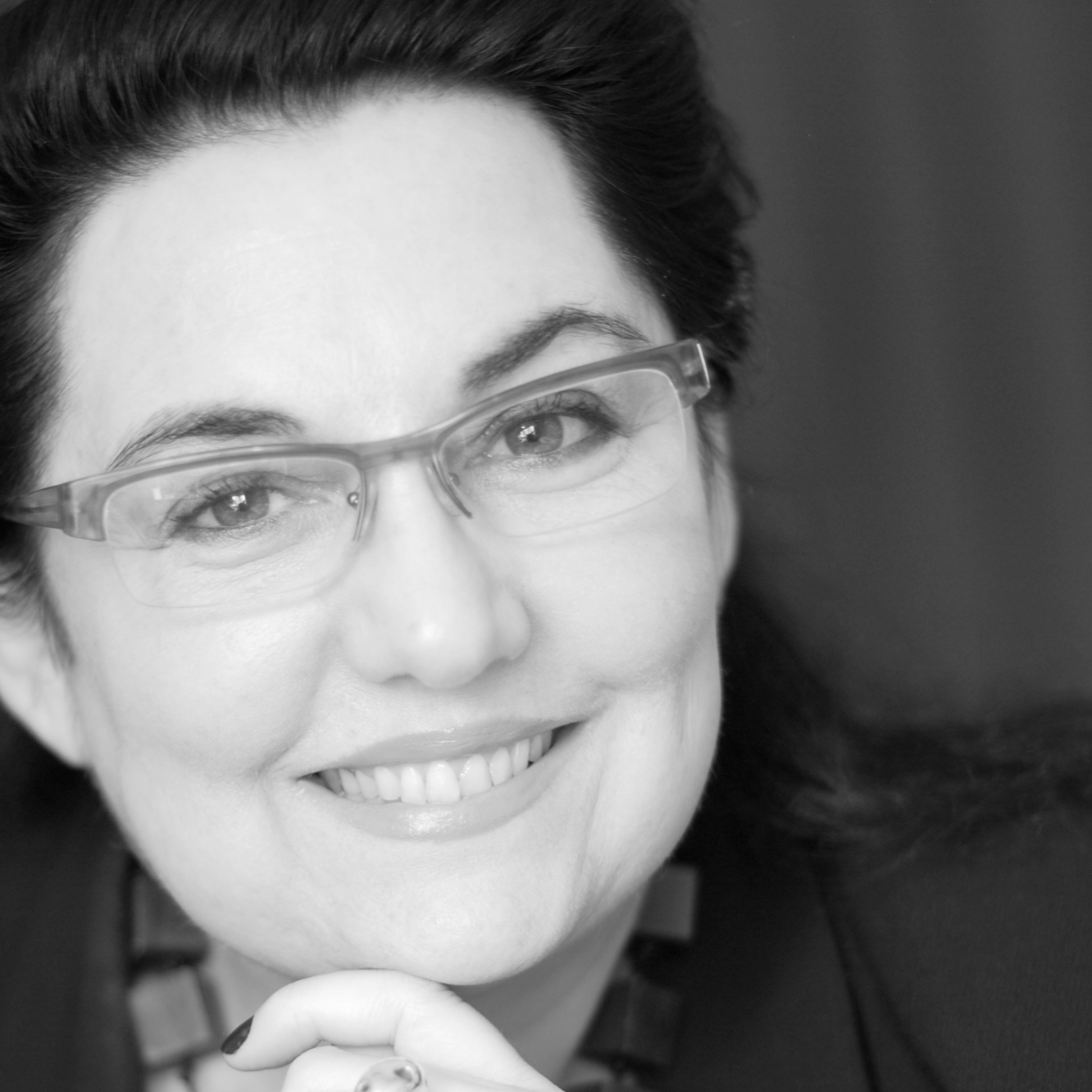 Rio-born Cynthia Garcia is a respected art historian, art critic and journalist fluent in five languages stationed in São Paulo. Cynthia is a recipient of the 2023 APCA (Paulista Association of Art Critics) award as a contributing editor of Newcity Brazil since its founding in 2015. Her daughter America Cavaliere works in the contemporary art market and her son Pedro Cavaliere, based in LA, is in the international DJ scene.
Contact: [email protected], www.cynthiagarcia.biz