The art of drawing is celebrated at Galeria MaPa in its opening show, "Desenho Moderno: as formas da ideia sobre o branco do papel" (Modern Drawing: forms of the idea on white paper). A fine and rare overview of the last ninety-five years of drawing in Brazil, the exhibition displays fifty drawings beginning with a female nude by Tarsila do Amaral from 1922, the year of the Semana da Arte Moderna de 1922 (Week of Modern Art), the seminal event that introduced and rooted the Modern Art movement in the country. The works are organized in seven nuclei: Figurative-Abstract artists (Antonio Bandeira, E. Di Cavalcanti and Roberto Burle Marx), Theorists (Onofre Penteado and Flavio Motta), Portraits (Djanira, Ibere Camargo, Loio-Persio and Tarsila do Amaral), Lines (Oscar Niemeyer, Anatol Wladislaw and Zanine), Cartoons (J.Carlos, Saul Steinberg and Hilde Weber) and Contemporary Cartoons (Ziraldo, Zélio, Henfil and Guto Lacaz). Among the highlights is a group of fifteen cartoons by Saul Steinberg, who had close ties to Brazil. Most of the admirers of the master cartoonist's elegant, swift lines are unaware that his first work ever printed on a magazine cover was published in a Brazilian magazine in 1940 and his first museum exhibition occurred in 1952 at the MASP.
The uppercase and lowercase in the new gallery's name relates to its founder's first syllables, longtime collector Marcelo Pallotta. In addition to interviewing the gallerist, we asked for comments from cartoonist Guto Lacaz, who signs the show's introductory text, architect João Niemeyer and art collector João Pedrosa.
Marcelo, you are showing fifteen cartoons by Saul Steinberg, who had a connection to Brazil very few people are aware of. 
Indeed, Brazil played a meaningful role in Steinberg's trajectory. It was in a Brazilian publication in 1940 that he had his first cartoon published on a magazine cover. Twelve years later he had his cartoons exhibited for the first time in a museum here in São Paulo. This was disclosed in the exhibition, "Saul Steinberg: As Aventuras da Linha" [The adventures of the line], at the Pinacoteca in 2011, organized by Instituto Moreira Salles with 110 Steinberg cartoons.
So tell us how Steinberg had his first-ever cartoon cover printed in a Brazilian magazine before being discovered by the New Yorker.
Steinberg was already living in New York when he visited São Paulo for the first time in 1952, invited by his friend Pietro Maria Bardi, the founder of MASP, for his first-ever exhibition in a museum, possibly the first display of cartoon art in a museum in the twentieth century. They met while he lived in Milan from 1933 and 1941 and both men contributed to "Il Settebello," a Milanese magazine that had all its editions under censorship of the fascist government, an episode they would efface from their European past much like Belgian Hergé. In Milan, Steinberg also knew the Civita brothers, Cesare and Victor, who were Jewish like him—Victor was a journalist at Mondadori, Cesare its general manager. Fleeing World War II, Bardi and Victor settled in São Paulo and Cesare went to New York in 1938 where he became Steinberg's first agent, responsible for introducing his drawings in 1942 to the New Yorker, followed by Harper's Bazaar, Life and Town & Country. However, what very few people know is before the New Yorker, Cesare, through his connections with the Brazilian press via Victor (founder of Editora Abril in 1949), had the Romanian-born artist's cartoon published on the cover of the opening edition of "Sombra" magazine's December 1940/January 1941 issue. This high-end Brazilian bimonthly that ran until the 1960s has to its credit having printed Steinberg's first cartoon cover, a pen-and-ink drawing with patches of watercolor and the elegant witty lines that made him the master of cartoon art.  It is in the 1940 chronology at the Saul Steinberg Foundation site along with the two inside drawings he drew for the same issue. The original drawings possibly got lost.
And what about his MASP exhibition in 1952?
In September 1952, the MASP under Bardi opened a solo exhibition of the artist; it was a variation of the show Steinberg had in January of that year in New York's Betty Parsons Gallery. At the Saul Steinberg Foundation site there is a newspaper clipping with photo of Steinberg and his then-wife Hedda Sterne, who was an abstract expressionist painter, disembarking at Rio's Galeão Airport announcing the arrival of the "famous couple of artists" for his MASP opening in September 18, 1952.
So what do you account for so many Steinberg drawings of the 1950s/1960s period in São Paulo?
He had his old friends Bardi, Victor and Cesare from Milan's journalism milieu when he was a struggling cartoonist. Before settling in New York, Steinberg and Cesare lived a year in the Dominican Republican waiting for an American visa; they were close all their lives. Steinberg came to São Paulo for the exhibition at the MASP and had cartoons published in the local press when the original was sent by the post office, not digitally by email.
How about the process of authenticating these Steinberg drawings?
It was a process involving a year-long research. Firstly, I tried authenticating the lot through the Saul Steinberg Foundation in New York but they don't provide the service. So I contacted Galerie Kornfeld, a specialist in Berlin. Mr. Kornfeld admitted the drawings had Steinberg's characteristic lines and style. Finally I sent them to a restorer specialized in paper drawing, who then told me the papers were all original 1950s/1960s and, most importantly and much more difficult to forge, the ink was authentic, from the same period. It isn't uncommon to forge drawings on old papers but why would someone in the 1960s go through the trouble of also forging the ink on a drawing of a cartoonist who hadn't at the time achieved world fame?
Aside from Steinberg and the 1922 female nude by Tarsila do Amaral what are other highlights of the show?       
Antonio Bandeira's surrealist drawing and Roberto Burle Marx's, both dated 1949, are very interesting works, possibly sketches for paintings. In the case of Burle Marx it can also be the study for a ceramic wall panel. Among Di Cavalcanti's drawings there's one particularly interesting, dated 1972, dedicated to art critic and friend Geraldo Ferraz. When I asked for its authentication, art expert Martin Wurzmann told me the signature and drawing were good, then he added: "Di was known for being an astute artist; he would never dedicate a bad drawing to an art critic."
Among the theorists of modern Brazilian drawing you exhibit a drawing by professor Flavio Motta. 
Flavio Motta was an art historian, painter and a fine draftsman; by definition he is among our main theorists of drawing and artistic training. He said: "Drawing has a lot to do with our political emancipation. It interposes with the designation that forges humanist culture. In its roots, the word desenho [drawing] is compromised with design, as in purpose. They are affiliated words. When we, reestablish the interconnection between these two words, we shall recover the means to influence the path of our lives." His drawing reveals his characteristic geometric lines depicting a face, dated 1972, inscribed with his traditional abbreviated signature, F.L.M., the "L" stands for Lichtenfels. Early in his career he was an assistant to professor Bardi at the MASP and rendered drawing classes in the museum in the late 1950s.
Now tell us how you became an art gallerist?
I'm actually a graphic designer, specialized in film posters, with about 200 titles to my name, some of which among the most iconic in Brazilian contemporary film: "Cidade de Deus"(City of God, 2002), "Carandiru"(2003) and "Que Horas Que Ela Volta?" (The Second Mother, 2015).  Parallel to that, I've also been developing photography with a Polaroid camera, which are in Brazil's most important photography collections, the MASP/Pirelli Collection and the recently opened Museu da Fotografia (MFF) at Fortaleza. It was my curiosity that led me to collecting art thirty years ago. In the mid-eighties, when I was in my twenties, I bought my first artwork, a canvas by my friend Leonilson (1957-1993). Eventually buying and selling turned into a business moved by passion doubled with surfing, which I find time for during weekends.  I've always held Latin American Modernism in high regard; it is the focus of my dealings. All this put together, my love for drawings and the magic of the idea with the pencil on paper propelled me to open the gallery.
To wrap up, what is your feeling of the market for drawings?
There's the saying: "Art is like all other investments with its ups and downs but it is invariably more beautiful than a bank statement."
Commentaries from three connoisseurs passionate of the art of drawing
Architect João Niemeyer (Oscar Niemeyer's nephew and close collaborator in his uncle's architectural projects (until Oscar's death at the age of 104) on the architect's drawing of the Pampulha Modern Ensemble (1942-1944, a UNESCO World Heritage Site). 
"This is undoubtedly a hand drawing by Oscar of the Pampulha ensemble. The top portrays the church (Igreja São Francisco de Assis), the one below, the ballroom (Casa do Baile). It was quickly sketched in simple strokes over parchment paper typical of the drawings he made during his speeches addressed to students. Very few people know he rendered all his speeches drawing on sheets of parchment paper standing up during the entire presentation. When it ended, the drawings were disputed by the audience. He then unhurriedly signed and dated each one and distributed to the students. This one was probably left rolled up for some time since the bottom section of the paper shows signs of aging. The date can be misread for 1956 or 1986 but I know Oscar's handwriting quite well, it is quite clear to me he hand-signed it 1996."
Artist, performer and cartoonist Guto Lacaz on Saul Steinberg
"As a kid I loved drawing. I used to copy the cartoons printed on the last page of the magazines. How could they poke so much fun with just a few lines? In 1969, at my architecture entry exam, one of the tests of Languages in Architecture included a stylized man in pen and ink in the center of a white page. We were asked to draw the environment surrounding him. I instantly fell in loved with that drawing of a man and when I got into college I asked professor Zanettini who was its author. Saul Steinberg, he answered. I started buying all his books; I was obsessed with his view, his humor, his intelligence, his solutions, his synthesis. Millor Fernandes and Ziraldo, cartoonists and editors of the Pasquim, used to say they wanted to be "o Steinberg." After some time, I learned of his exhibition at the MASP. Professor Flavio Motta witnessed when Steinberg visited Lina Bo and Pietro Maria Bardi's Glass House. Rain fell, the windows sprayed with mist in the inside and—poetry in the air—Steinberg began drawing on the glass. Like in Fellini's 'Roma,' the images evaporated in thin air. It took me quite some time to find my own path. Once in a while, I 'invite' Saul over a cup of coffee and he tells me how to better my drawings."
Art Collector João Pedrosa on the cartoon by Hilde Weber for newspaper article "Sob Julgamento a arte abstrata" (Under Judgment Abstract Art) by art critic Quirino Campofiorito, published 1948:  
"The drawing illustrates a typical artsy group of the late 1940s in a lecture by French art critic Léon Degand (1907-1958) while the curator of the first São Paulo Biennales introduces for the first time Abstract Art to a Brazilian audience. All the characters are local glitterati and the ambiance portrays an intimacy of cartoonist Hilde Weber with the art world. To my surprise, "Figuração X Abstração no final dos anos 1940" [Figurativism X Abstractionism in the late 1940s], a book launched in 2011, had the cartoon on its cover but no credit given to Weber. The image had been captured from a page of the newspaper "O Jornal," where it was originally printed with the name of the cartoonist cropped off, a common practice before the 1960s. German-born Hilde Weber studied Graphic Art in Hamburg and arrived in Brazil in 1933. She broke the barrier in this male-dominated field, contributing to major newspapers and magazines with her vibrantly designed, politically ironic cartoons."
Desenho Moderno: as formas da ideia sobre o branco do papel
(Modern Drawing: forms of the idea on white paper)
Through  April 20, 2017
Curator Marcelo Pallotta
Introduction text by Guto Lacaz
Critical text by Juliana Monachesi
Galeria MaPa, São Paulo
instagram: galeriamapa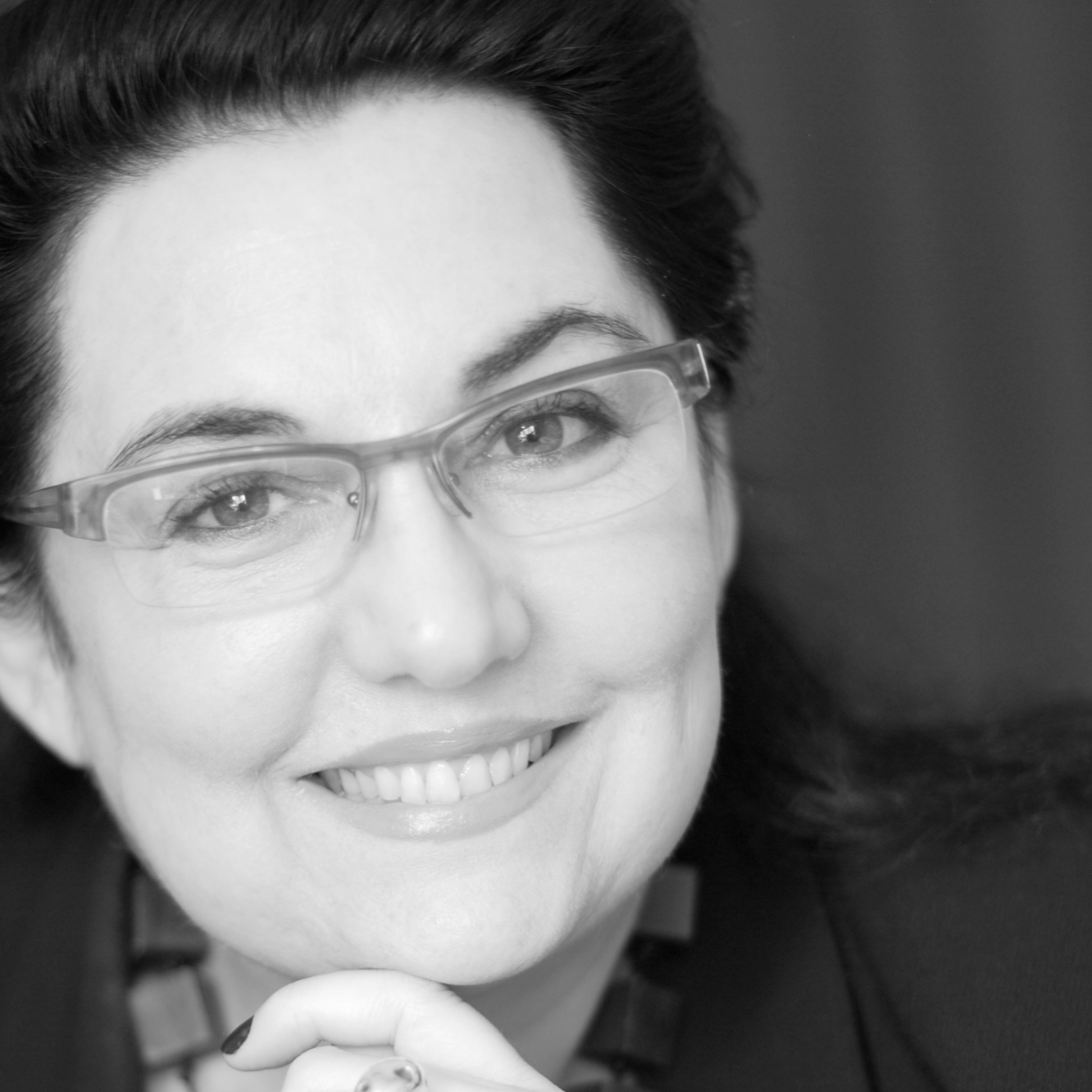 Rio-born Cynthia Garcia is a respected art historian, art critic and journalist fluent in five languages stationed in São Paulo. Cynthia is a recipient of the 2023 APCA (Paulista Association of Art Critics) award as a contributing editor of Newcity Brazil since its founding in 2015. Her daughter America Cavaliere works in the contemporary art market and her son Pedro Cavaliere, based in LA, is in the international DJ scene.
Contact: [email protected], www.cynthiagarcia.biz