Leda Catunda's exhibition "I Love You Baby" (closing Sunday, January 15) at the Instituto Tomie Ohtake kicks off a cycle of 2017 exhibits solely dedicated to Brazilian female artists. One of today's exponential references in Brazilian art, the fifty-five-year-old São Paulo-born artist originated in the neo-pop expressionistic abstract movement that freed, to say the least, canvases and minds from the period's artistic tedium and the traditional frame, dubbed "Como vai você, Geração 80?" (How are you, Generation 80?) It was actually the title of an iconic collective show, organized in 1984 in a neo-Roman palazzo at Rio's Parque Lage, hailed as a turning point in Latin American contemporary art that launched, to name a few, Beatriz Milhazes, Daniel Senise, Luiz Zerbini, as well as the now-deceased artists Jorge Guinle and Leonilson, the latter a close friend of Catunda.
"I Love You Baby," which is not a retrospective, includes thought-provoking, almost cartoonish works created from 2013 to 2016. Her freeform, brazen machine-sewn large eye-drop curves in pink and other kitschy color mixes are stitched with garish mass-media references and reside on the fringe of bad taste. Her regalia include rock-band t-shirts, imagistic beach towels and flowery sarongs as well as velvets, silks and other catchy fabrics she collects and transforms in evocative details researched on the Internet. "I like to enjoy the things other people like" Catunda points out about the core subject in this eighty-eight-piece solo exhibition focused on the selfie, the tool of the most blatant declaration of self-centered love of all time. Paulo Miyada, institute and show curator, interprets the artist's social critique of the global cultural behavioral phenomenon of today's ritualized romance and/or hanky-panky ego-trip by explaining Catunda "has led her oeuvre to embrace the potent resonance inhabited by 'image-people' hysterically dedicated to their looks, shooting photos of themselves in the mirror and posting them on Facebook."
The artist has participated in several major exhibitions including the São Paulo Bienal as well as in shows abroad. In the US her last show took place at Aspen's Galerie Maximillian in 2015.
Leda, why the title "I Love You Baby"? 
The exhibition revolves on the subject matter of emotional consumerism related specifically to affection in those who search for things and images that in turn defines their own identity.  It explores images of social groups like surfers, motor bikers and people in love through the lens of my creative process, which includes working with watercolor, collage, engraving, relief, painting-object and painting-installation. For the show I also developed a wallpaper for the walls.
How do you deal with the concept of excess, exuberance, gaudiness and issues that defy conventional standards of "good taste"?   
The world has become an excessive place especially when you tackle the unheard of amount of images generated by social networks, which has grown into a global concoction of barbecues, trips, loves, bodies, pornography and art interwoven all together. Suddenly we witnessed a violent multiplication of image-producing individuals and it's very exciting to deal with all this. There's a lot of energy dedicated to self-exposition going on and this points out to an evident change in society's behavior pattern dictated by the action to post. In the exhibition there's a work called "Mar Linda" based on the posts and selfies of a well-known teenager in Brazilian social media, who lent me her Facebook photos, where she shows herself as a fictitious character she created dubbed "Mar Linda" [in Portuguese slang it sounds like "the most beautiful"]. In the exhibition, this cultural phenomenon is clearly observed in "Mar Linda" and "Ana e André," a painting-object in which I worked on the photos the couple took on their trip to California and Yosemite National Park.
What are other curious appropriations you recycled and incorporated? 
In several works I used printed images from fabrics found in garments and beachwear like sarongs and pareos. I also used t-shirts from rock bands like AC/DC and Iron Maiden—with its great skull-printed tees—to exotic tropical prints from cangas (pareos) and beach towels with idyllic images of Bali and Copacabana beach.
You made collages using rock-band t-shirts. Does fashion influence your narrative?  
One of my mottos is "I like to enjoy the things other people like," I give that a lot of thought. It thrills me to observe the images people surround their lives with from the fabrics of their upholstered couch to what they chose to wear themselves.
Now tell us about your work process.
Craftsmanship plays a big part since everything I do is basically hands on with my own hands—no one is allowed to sew any of my painting-objects but me. My house is near my studio where I have three assistants who come by different days of the week. One goes through my emails and treats the images while the other two help me out building the works. The heavy works in wood are all built in a carpenter workshop. The wall that faces the entrance of the exhibition represents a good example of my creation process; it shows several watercolors, collages, small and medium-format prints as well as the recurring forms used in my large paintings.  Since I began in the arts I've been appropriating images and objects soft to the touch. The main operation in my procedure is the collage followed by a paint finish. The result is not exactly painting; it's rather a way of contextualizing totally different elements and recreating them with a new meaning.
Since your beginning in art in the 1980s when we met, to this day, your art is easily identifiable and conveys a strong pop identity like the work of Jeff Koons, for example. Who are artists you admire? 
I love Jeff Koons! His sculptures with images inspired by mass culture made with the same technology as a Ferrari is amazing to say the least. Damien Hirst's whereabouts interests me since he's always poking into new issues. Of course I'm inevitably connected to the production of my artist friends from my generation, Luiz Zerbini, Daniel Senise, Barrão, Ana Tavares, Jac Leirner, Paulo Pasta and others as well as to the younger generation, Sofia Borges, Bruno Dunley, Tiago Tebet, Tony Camargo, Lucas Arruda to name a few. I see a great future in this new generation of Brazilian artists; they have a great deal to contribute to contemporary art.
Your exhibition opens a series of shows at the Instituto Tomie Ohtake based on the oeuvre of women artists. Who do you relate to? 
I don't see a clear distinction in contemporary art in terms of gender. I have a great admiration for Regina Silveira, my friend and teacher. I hold in high regard the work, colors and round forms in the early paintings of Tarsila and marvel at Georgia O'Keeffe's as well as Eva Hesse's body of work. They are all artists who incite me.
Leonilson (1957-1993), who became a main reference to Brazil's 1980s art generation, was your close friend. What do you remember of this friendship? 
We were very very close friends. I guess what impacted me most about Leonilson was the fact he was a downright full-time artist, he felt and fed on art twenty-four hours a day. It was most impressive.
Since love and emotional consumerism are at the core of your show, did you insert your own selfies? Where are you hidden, Leda?
LOL… As I said "I like to enjoy the things other people like." I elaborate on "the taste of others"—by the way the title of a great 2002 Argentinean film. Since you insist, I'll simply mention that in the group of round, organic watercolors and at the wallpaper paintings you'll find hints of my way of feeling the world…
Leda Catunda – I Love You Baby
Curated by Paulo Myiada
Through January 15, 2017
Instituto Tomie Ohtake, São Paulo
In Brazil the artist is represented by Fortes D'Aloia & Gabriel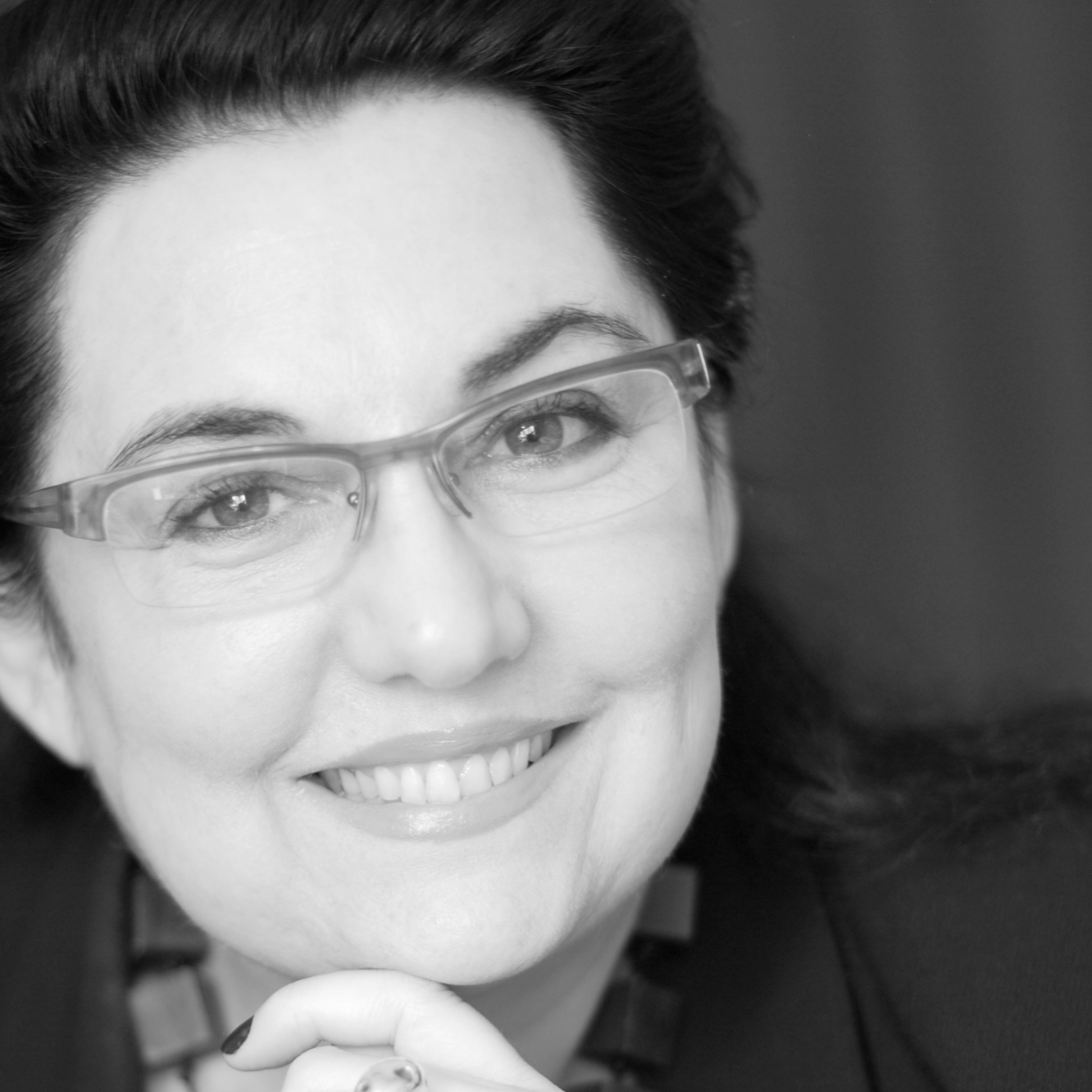 Rio-born Cynthia Garcia is a respected art historian, art critic and journalist fluent in five languages stationed in São Paulo. Cynthia is a recipient of the 2023 APCA (Paulista Association of Art Critics) award as a contributing editor of Newcity Brazil since its founding in 2015. Her daughter America Cavaliere works in the contemporary art market and her son Pedro Cavaliere, based in LA, is in the international DJ scene.
Contact: [email protected], www.cynthiagarcia.biz