"Augusto de Campos turned eighty-five. For me he is Brazil's greatest living poet. He digs into the depths of poetry—in its history, in its meaning in-between the arts" —Caetano Veloso, in the catalog for the REVER  retrospective
Anyone who lives off the art of writing or graphic arts in Brazil just can't help a feeling of positive jealousy toward Augusto de Campos. This visual poet casts a spell on everyone who comes across the metamorphosis he surgically dissects onto the universe of the word with unparalleled knowledge of its meaning, relations, layers, silence and imagery, transforming the Portuguese idiom into a lively, rhythmic, evolving language that enquires about itself and the world. He achieves aesthetic perfection while conducting a purist orchestra of visual phonetics, semantics and graphic art, namely Concrete Poetry, which he created in the early 1950s with his older brother Haroldo de Campos (1929-2003) and Décio Pignatari (1927-2012).  Among others, the trio's poetic adventure was ignited by James Joyce's book, "Finnegans Wake" and his portmanteaus, which the Campos brothers would later interpret into Portuguese in a masterful translation of the Irish writer.   
São Paulo's Sesc Pompeia retrospective "REVER_Augusto de Campos" runs through July 31. It is the largest to date to assemble the trajectory of this icon, who began pasting up with glue, scissors, a ruler and an eraser, when buttons were either for clothes or the Victrola. From then on, he has developed conceptual word installations and, more recently, videos and animated films based on Concrete Poetry that derived nearly six decades ago parallel to Concrete Art, then a budding aesthetic experience that joined a small group of artists and intellectuals from São Paulo and Rio in the 1950s as he explains in the interview that follows.
What attracted you to poetry early in your life? 
I didn't manifest any precocious predisposition to writing as a child; instead my brother, Haroldo, did. I enjoyed drawing. Haroldo wrote small tales. We sold our "opus" (works) to our aunts, my mother's sisters, our "victims" of choice. My father, fancying our initiative, had an oval rubber stamp carved for us, "Escritório Irmãos Campos" (Brothers Campos Office), with which we stamped all our production… He was the family intellectual, a musician and pianist, who liked to recite poems for us, from Camões to Cesário Verde, a particularly touching poet for me, also held dear by Fernando Pessoa. My father's voice still remains in my ears reciting the now-famousm"Contrariedades," a poem by Verde little known then. I only considered writing poetry around sixteen triggered by my brother Haroldo, a year and a half older than myself and also attracted to this field.
When was your first poem published?
Mário da Silva Brito, an expert in our Modernist movement and a close friend to Oswald de Andrade, had my first poem published in the newspaper in 1948. The following year, Mário introduced us to the great writer [Andrade], the "anthropophagous" leader of our Modernism, who gave us a copy of the sold-out first edition of his romance, "Serafim Ponte-Grande," dedicated "To the Campos Brothers (Haroldo and Augusto), a poetry company."  I couldn't stop myself from remembering my father… We had been approved in the business of writing poetry.
So what took you to blending in poetry with graphic art?  
It all began in 1952/1953, when I wrote the series "O Poeta Ex Pulmões" and composed the six poems in colors of the series  "Poetamenos," under the influence—or confluence—of the most radical books and poems of Mallarmé, Pound, Joyce, e. e. cummings, painter Mondrian and, above all, of Anton Webern's "Klangfarbenmelodie." In 1955, three poems of the "Poetamenos" series were presented in four voices and slide projections by the music ensemble Grupo Ars Nova, already under the title "Concrete Poetry." In 1956, the Museum of Modern Art of São Paulo held the "First National Exhibition of Concrete Art" where Concrete Poetry was officially launched along with paintings and sculptures of the main representatives in Brazilian geometric art.
When did you and your brother Haroldo start writing poetry together with Décio Pignatari?
We met Décio in 1948 and the following year the three of us were already thinking of poetry together. In 1952, we paid for the publishing of a magazine-book, entitled "Noigandres," a word from the provençal dialect extracted from Ezra Pound's "XX Canto" referring to a quote by the Occitan troubadour Arnaut Daniel, lauded by the great North American writer as an example of poetry by the "inventors," the most innovative in the craft of poetry.
Now tell us about when the three of you developed "verbivocovisual" poetry. How did that come about?  
In 1952, we met the geometric artists led by Waldemar Cordeiro of the Ruptura group, responsible for introducing Concrete Art in Brazil, and our interaction with them originated naturally from then on. The same year, we bought our first LPs newly edited of innovative musicians: Schoenberg, Webern, Berg, Varèse, Cage. Stimulated by our reflections and studies, Décio, Haroldo and I came to the idea of "verbivocovisual" poetry. The term derives from Joyce's "Finnegans Wake." It is a radical form of poetry that emphasizes the materiality of the word—both its visual and sound dimensions, related to its meaning. This resulted in Concrete Poetry, which then grew into an international literary movement.
Your translation into Portuguese of "Finnegans Wake" is considered by international experts as one of the finest in Joyce's work. Please tell about the experience. 
For this undertaking I associated with Haroldo de Campos. Joyce's last creation was, as I mentioned before, one of the fundamental books for our development. Later we compiled our translation of the book's most beautiful fragments in an anthology, "Panaroma do Finnegans Wake," first edited in 1962 and later enlarged in new editions. Joyce's neologisms and portmanteau words transforms each vocable in an array of meanings:  "place all space in a notshall," "panaroma of all flores of speech," "collideorscape." They were vital for the ripening of our poetry. We were responsible to introduce Joyce's work in Brazilian literature, when the author was still scarcely translated worldwide.  It was a most gratifying, enriching experience.
What about Shakespeare, did you ever translate the bard into Portuguese? 
I translated some parts of "Macbeth," "The Tempest," "Hamlet" but I believe my main contribution was to the "To be or not to be" monologue that had several translations in Brazil, all poetically poor and conventional. I attempted what Haroldo used to call "transcreation," that I name "translation-art."  But I also translated some "metaphysical poets" of the Elizabethan era, above all John Donne, about whom I wrote an entire book and, among others, Keats, Byron, Lewis Carroll and Emily Dickinson, whose anthology, "Não sou Ninguém" (I'm Nobody), was recently published in a second enlarged edition with eighty poems I translated into Portuguese.
Were your own books translated into English?  
My poems have two beautiful anthologies—the French, "Poètemoins," by Jacques Donguy (2011), and the Argentine, "Poemas," organized by Gonzalo M. Aguilar (1994 and 2014), who also translated and last year published the spatial poems in colors, "Poetamenos," in collaboration with Gerardo Jorge. Although I have some fifty poems translated into English, mostly in collaboration with Charles A. Perrone, an expert Brazilianist of the University of Miami, in Gainesville, we haven't found any English-language editor interested in publishing them until now. However, I have some poems translated and published in anthologies of Concrete Poetry; for example, the one organized by Emmet Williams, in 1968 (Something Else Press), recently reedited in facsimile, as well as poems published in several magazines and avant-garde American and English literary publications.
What do you have to say regarding Brazilian modern poetry in today's cultural scenario?  
In spite of Brazil's recognition as one of the main developing countries, Brazilian modern poetry faces the natural problems due to poor knowledge of the Portuguese language, ironically one of the most widely spoken languages in the world—if I'm not mistaken one out of five persons speak Portuguese—however, only in countries where it's an official language. Lately, Concrete Poetry has witnessed an international revival calling the attention of both the critique and contemporary avant-garde poetry, as seen in the works of North American authors Marjorie Perloff and Kenneth Goldsmith. Of our group, only Haroldo de Campos has two carefully crafted anthologies published in the United States of his poems and his critical essays. Unfortunately he was already deceased when they came out. I suspect my destiny won't be much different…  
In the book "Sobre Augusto de Campos" (On Augusto de Campos), edited by Flora Süssekind and Julio Castañon Guimarães (2004), author Carlos Ávila describes you as having "poetry in the present saluting the future." How do you envisage Concrete Poetry in the near future? 
Digital technology, introduced in the late decades of the last century, validates our literary speculations of the fifties as well as our visual and sound poetry experiences. Re-potentialized by the new medias, it offers an enormous field for new developments. Since the early nineties, I've produced my poems and poetic animations—the "clip-poems"—directly on the computer.  There are new generations of poets under the influence of Concrete Poetry experiencing new productive paths. The poems in colors I made in the 1950s typing long hours over double sheets of paper with six different colored carbon copies, a quasi impossible printing process, is now easily digitized with tools found in any basic software. Words can move around and assume a variety of forms, incorporate images, collages, montages, that inspire new "verbivocovisual" poetics as we foresaw sixty years ago, booed by press and public. I already miss the future.
"REVER_Augusto de Campos"
Through July 31, 2016
Curated by Daniel Rangel
Sesc Pompeia São Paulo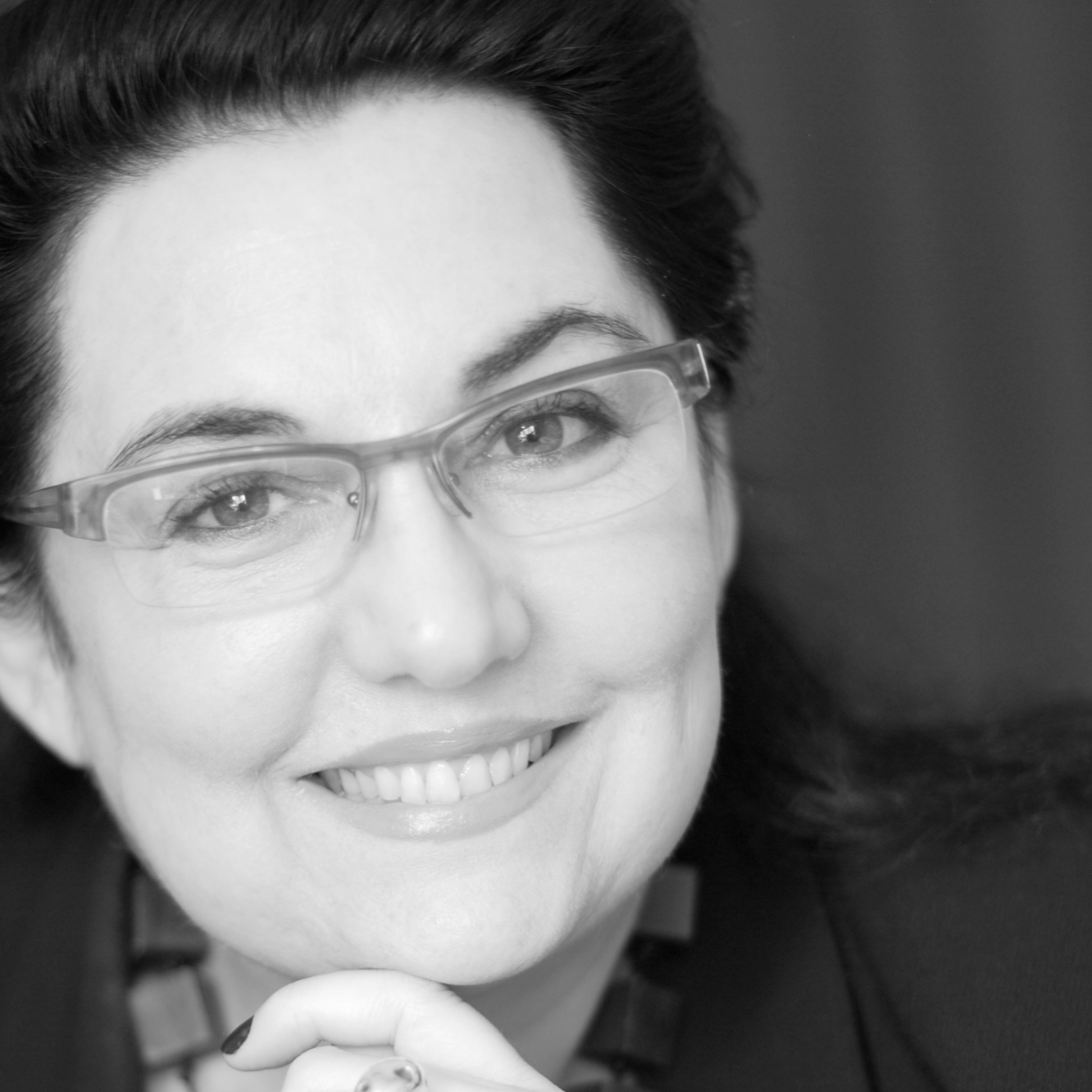 Rio-born Cynthia Garcia is a respected art historian, art critic and journalist fluent in five languages stationed in São Paulo. Cynthia is a recipient of the 2023 APCA (Paulista Association of Art Critics) award as a contributing editor of Newcity Brazil since its founding in 2015. Her daughter America Cavaliere works in the contemporary art market and her son Pedro Cavaliere, based in LA, is in the international DJ scene.
Contact: [email protected], www.cynthiagarcia.biz