If you think the shadow of Mies looms large over Chicago, you've seen nothing till you visit Brazil and see the stature of Oscar Niemeyer, who not only designed most, it seems, of the country's iconic structures, but who lived long enough (he died in 2012 at the age of 104) that he pretty much personally prevented postmodernism from taking hold in his country.
That's an observation, not a complaint, as I had the considerable fortune of spending last week in São Paulo's massive and gorgeous Cicillo Matarazzo Pavilion (commonly referred to as "The Bienal," after the art biennial that returns again this fall in this space) designed by Niemeyer, in the third-largest city in the world's answer to Central Park, Ibirapuera Park. For the last twelve years, the pavilion has hosted SP-Arte, the largest art fair in South America, and one that is roughly comparable in scope to EXPO Chicago.
In spite of a backdrop of economic duress and political turmoil haunting Brazil right now, you'd hardly identify any such troubles during the week of SP-Arte, which has managed to turn a full week into a burgeoning contemplation of its booming art culture, starting with perhaps a dozen exhibition openings on the weekend before the fair.
We were hosted in the Higienopolous home of the artist Denise Milan, whose outdoor sculptures grace both Ibirapuera Park and Chicago's lakefront, where "America's Courtyard," created with Ary Perez, carries on a perpetual conversation with the sun and the two American continents. After throwing us a welcoming event with many São Paulo journalists at her home the night we arrived, Denise joined us on Saturday as we visited the opening of two impressive exhibitions at Galeria Nara Roesler, including the acclaimed Brazilian artist Antonio Dias and the Cuban artist René Francisco, the latter exhibition the debut curation by the art patron Ella Cisneros. Denise would accompany us on most of our gallery visits over the next few days, proving invaluable to our ability to meet and introduce this project to as many leaders of the Brazilian art world as possible—Denise knows everyone, it seems. At Roesler, we also met NewcityBrazil writer Cynthia Garcia, who also seems to know most everyone.
That night we decided to take advantage of some extreme serendipity and check out the São Paulo edition of the MOSTRA film series, which we work closely with in Chicago to bring Brazilian films here. It turns out that they were hosting a reverse version the very week we visited, bringing American films to Brazil. So we saw a powerful documentary film and then joined the festival's founder, Ariani Friedl, along with the Chicago-based filmmaker James Choi for dinner.
On Sunday, we lunched with another NewcityBrazil contributor, Caroline Carrion, and then traveled together to the debut of the new location for Luciana Brito Galeria. Brito has converted a dynamic mid-century modern home, replete with sumptuous courtyard spaces, into a gallery and was launching it with a group show. It's a wonderful space, but I could not help wondering if it might be challenging at times for the art to live up to the surroundings.
Later that day we journeyed downtown to the Centro district, to Pivô, a large project space situated inside of Niemeyer's extraordinary Copan building. The sculptures and installations of Erika Verzutti used the space nicely, seemingly harnessing the organic energy of the architect's built environment. On the balcony upstairs, a robust opening party took place, fueled by a seemingly familiar young artist crowd that could have been airlifted from Pilsen in Chicago, complete with cheap American beer in cans (MGD in this case). There, we met up with another Newcity Brazil contributor, Thais Gouveia and joined her friends for dinner in the same complex, complete with a robust debate over brutalist architecture (a much more dominant motif in Brazil than the United States, especially given the prominence of the other patron saint of Brazilian architecture, the still-active Paulo Mendes da Rocha).
Gallery Night
A new offering this year, SP-Arte coordinated neighborhood-based gallery nights on Monday and Tuesday evening. This was a great way to see more exhibitions the week of the fair, and to do so without the conflict of taking time away from the fair itself. I'd love to see this in Chicago. Monday night took us to Vila Madelena, where we visited the recently expanded Galeria Millan, the cutting-edge Blau Projects (featuring an exhibition by an artist whose profile seemed to be everywhere this week, Maria Lynch; we'll have an interview with her in the coming days), the  Raquel Arnaud, and the venerable Fortes Vilaça. We finished our night at Eduardo Fernandes, where we ended up meeting the artist, Ana Amelia Genioli, who discussed the genesis of her work. (We'll have an interview in the future.)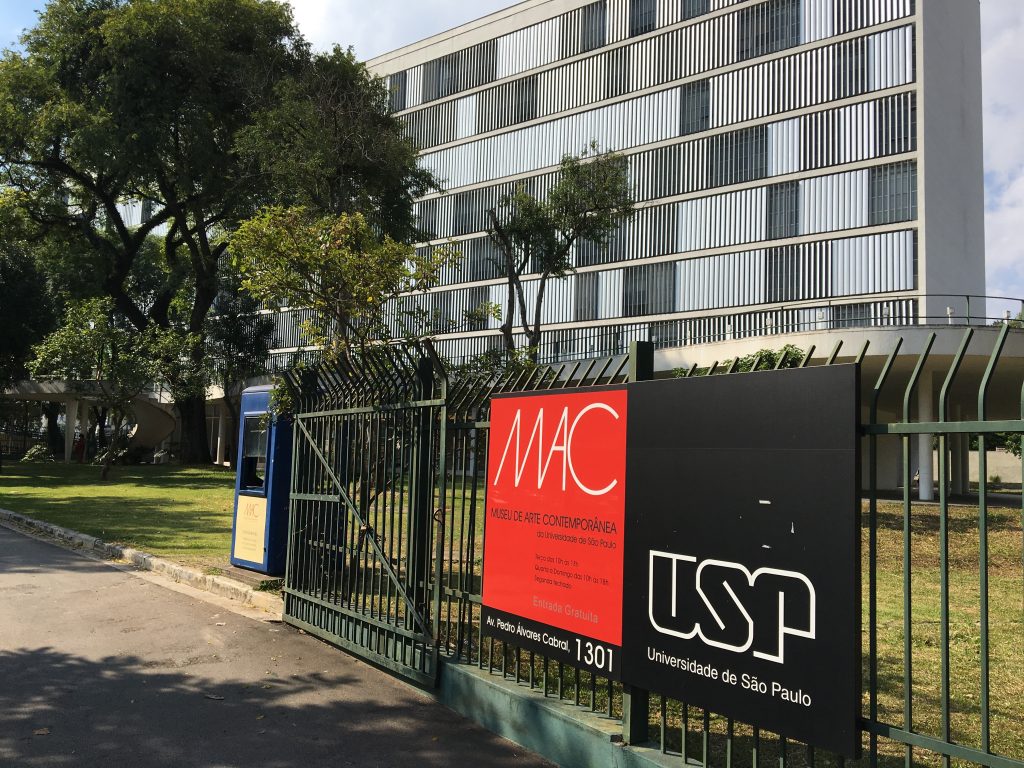 On Tuesday, SP-Arte held a kickoff brunch on the rooftop of MAC (the contemporary art museum), offering extraordinary views of São Paulo from its position in Ibirapuera Park. MAC is a seven-story museum (!), and after lunch we sampled a few floors, including the just-opened retrospective of Osvaldo Vigas, the Venezuelan modernist master we'd first heard about at a lunch during Art Basel Miami Beach. An artist I was previously unaware of, Vigas had a huge career until his death in 2014 at the age of one-hundred and made impressive work, as this exhibition establishes. (I met the late artist's only son a few days later at the fair. Lorenzo Vigas is a filmmaker who just won the Venice Golden Lion for his first film, "From Afar," which is a bitingly realistic portrayal of life on the streets of his home country. "It was the biggest award ever won by a Latin American filmmaker," he told me, "but I never got a single call from anyone in the government acknowledging it.")

Tuesday night we hit Jardins Paulista, where the list of galleries was far too long to visit them all, but we managed to spend time at Mendes Wood DM, which is quickly becoming one of the best-known Brazilian galleries on the international scene. There we took in the haunting nightgowns and drawings of Sonia Gomes, an artist whose work would stay with us throughout the fair. Also, they were putting the finishing touches on the first-ever solo exhibition in South America of the late American artist James Lee Byars. Early reviews from our entourage indicated great tidings for this show. Speaking of Mendes Wood DM, word spread through the art community this week that they were opening a branch this fall in New York City, following the recent lead of Nara Roesler. From there we visited the smaller branch of Baró Galeria, where we saw the provocative realism of German painter Norbert Bisky, which seemed to reference the refugee crisis but commenting on it by depicting white characters rather than the brown-skinned refugees haunting our news, as if to say to the art crowd, "This could be you." We ended our night at Galeria Lume, which is a young gallery (about five years old) helmed by youthful and vibrant gallerists. The gallery might be young but it is working with a veteran roster, including our host Denise Milan, her friends the photographers Claudio Edinger and Betina Samaia and, in their current exhibition, the sculptor Luiz Hermano.
SP-Arte
Like every other art fair, the biggest action at SP-Arte takes place on Wednesday, its opening day, which is structured as a series of VIP previews based on status, culminating in a sort of who's who high-energy gathering of the art and cultural world in the evening. For many dealers, this is the make or break day of the fair, when serious collectors make their purchases. At SP-Arte this year, other stakes were involved, where the level of concern over the economy (as well as the political crisis connected to it), seemed to create a fear that the art world might disappear entirely. The large noisy crowd on Wednesday put that fear to rest, whether buyers were buying or not. Life, or at least art, goes on.
Latitude is an organization funded by a government-affiliated trade organization and a considerable number of Brazilian galleries with the mission to grow the international trade in Brazilian art. For SP-Arte, they organized a five-day Art Immersion itinerary for a small group of collectors and curators and journalists from Europe and the United States that took them to galleries, museums, private collections and, of course, the art fair. On Wednesday and Thursday, they offered guided tours of the fair, visiting ten galleries each day with a curator discussing the history and background of each dealer, as well as pointing out notable art.
The art fair was organized over three floors (including the sort of hybrid main floor which was on two levels united by a long ramp). That main floor, along which the sloping ramp is where the publications like NewcityBrazil decamped along with local art institutions including MASP and MAM, is the largest. At one end, a smattering of smaller contemporary gallery spaces, like the street-art-infused Choque Cultural and the aforementioned Lume and Blau Projects, along with solo projects and book publishers brings a whirlwind of activity. At Blau, Andrey Zignnatto turns his masonry skills into a sort of alchemy wherein brick becomes a veritable fabric. (In a similar vein upstairs, Ascânio Mmm turned metal into another "cloth.") At the other end, larger galleries offered mostly twentieth-century modernism. Though my interests usually skew toward contemporary, I was fascinated by the opportunity to see in person the work of so many iconic Brazilian artists we've covered on Newcity Brazil, ranging from Helio Oiticica and Lygia Clark to Di Cavalcanti, whose works seemed to be everywhere here. As anyone who spends time at art fairs knows, certain well-known artists get displayed in booth after booth after booth. The same thing happens here, but the artists being displayed are NOT the same artists typically seen in the North American art fairs (or covered ad nauseam in the art press), making it fresh, at least for me. I was especially excited to see the works of Sandra Cinto up close, large paintings with dark backgrounds and fine intricate lines that simply cannot be captured in reproductions. Though the work of Vik Muniz did seem to be everywhere at last year's EXPO Chicago, I was enraptured by his riff on Berenice Abbott's iconic "Night View," New York at night photo, an all-time favorite.
At Ricardo Camargo Gallery I admired the work of Wesley Duke Lee, and soon found myself talking to his niece, Patricia Lee, who was instrumental in starting the art institute in his name.
The second floor is the heavy-hitter floor, where the major forces in contemporary art, including several international galleries like White Cube and David Zwirner are flanked by the powerhouses of Brazilian art. (Some, like Dan Galeria, have booths on both floors reflecting their strength in both modern and contemporary.) While most booths focused on the money-making potential of group shows, the greatest hits, others ventured out with solo or focused shows, like Galeria Rabieh, which showed only the painter Liam Porisse.
The third floor was taken up by a new Design Sector this year, featuring an array of designers and dealers in modern and contemporary home design, mostly furniture. The dealer dpot, for example, showed all Brazilian designers. And yes, Oscar Niemeyer was represented, by the pair of vintage chaise lounges and coffee table at Gallery Passado Composto Século XX, which I could have taken home for about $100,000. More down to earth, I saw delicious vintage pieces at Teo, and Etel had several booths featuring the likes of Claudia Moreira Salles, whose table had me at hello. Brazilian furniture design has a powerful contemporary resonance, with extensive use of refined woods and a pervasive sense of sustainable ecology.
Especially noteworthy in that vein are the furniture pieces made by Hugo França. Carved out of massive felled Pequi trees, his reclamation works speak volumes about the environment by their very presence. But lest you think all Brazilian design has a Greenpeace vibe, there's also the mad-scientist lighting of Maneco Quinderé, whose booth was especially crowd-pleasing.
Though a celebratory mood was palpable throughout the design sector, perhaps nowhere more so then among the student designers from Belas Artes de São Paulo, a design school, who were seeing their work displayed on the same platform as some of their country's great designers.
Since we had to head back to Chicago late Saturday night (the fair ran through Sunday), the party thrown by Simon Watson Arts to launch his new "Art Stars To Know" show was a great sendoff, with views high above São Paulo at night and a chance to see many of our new friends one last time. Watson, a longtime presence in the New York art scene, is a force in Brazilian art, working as a hybrid critic, art advisor, enthusiast and everything else for this work. He now lives in São Paulo full-time, so he's putting his future firmly where his mouth is. For Simon, Brazil is a magical, wondrous place. (We agree.)
The night before, we'd unexpectedly experienced some of that magical wonder ourselves. MASP opened a new exhibition which afforded us the chance to see the newly restored main gallery as envisioned by Lina Bo Bardi (on an ad hoc tour led by Cynthia Garcia). It's truly one of the great art experiences of the world now, where old masters through the modernists are mounted, not in ornate frames on serious walls, but in glass cases that seem like lucite frames that fill the huge wide open room with art. Words can't serve the experience of seeing familiar art displayed in such a new way, alas, but I am confident that you won't see anything like it anywhere.
After the opening ended at 10pm, Denise Milan invited us to join her at a party in the home of Marina de la Riva. De la Riva is a well-known singer in Brazil, who blends the Cuban heritage of her father with Brazilian (MPB) and jazz influences. We showed up with little information other than a promise that the music would be good. That would be a considerable understatement as we discovered that we'd stumbled into Marina's birthday party and that her friends, musicians all, would be performing for and with her. For the next few hours we were spellbound (and sometimes dancing) to Cuban rhythms pounded out by an eight-piece or more at times ad hoc ensemble, to classic Brazilian ballads and bossa nova classics and, at one point, to the astonishing performance of a tap dancer who pounded out rhythms on the boards in a call-and-response improv session with the rest of the band that lasted at least twenty minutes. Oh, and perhaps I should mention that much of the time she played the saxophone WHILE dancing. At one point, Denise said to me that this should be in a movie (and maybe it will, based on the number of guests recording this all on video). No I said, no one would think it realistic in a movie. It was too good to be believed.