"For decades Cuba's regime allowed only one brandless toothpaste per family for an entire month. I began collecting these lead tubes for my works from trashcans in Havana, then my family, friends, everyone helped amassing them. To put it lightly, the squeezed used-up toothpaste tubes represent the lack of identity and promiscuity imposed by the regime on the Cuban people." This near-surrealist account unfolded in prolific Cuban-born artist René Francisco's first exhibition in Brazil, at São Paulo's Galeria Nara Roesler. The exhibit's title, "Venceremos"—the same verb in Spanish and Portuguese—bears a forthright political overtone: we shall win. The cry, an overt critique of Cuba's authoritarianism, resonates with Brazil's current presidential impeachment effort. One of the works in the series, a large, imposing two-way see-through panel, "Entre Nosotros" (2016), intertwines human figurines molded out of 3,000 toothpaste tubes into a mass of fornicating Lilliputians. These explanations were given during the tour the artist led at his show opening along with art collector Ella Fontanals-Cisneros. Acting as curator for the first time, she is the founder of the renowned Cisneros Fontanals Art Foundation in Miami, an active non-profit organization committed to contemporary Latin American art since 2002, who lends works for institutions from the Tate Modern in London to the Pinacoteca in São Paulo. I interviewed the Cuban-born patron of the arts, once married into a powerful Venezuelan family, now divorced, who developed into one of the leading strategists responsible for igniting global interest in Latin American art. Fontanals-Cisneros says of her protégé: "René Francisco once dreamt Obama visited Cuba and made it into a performance for the Bienal de Havana in 2012. He foresaw two years ahead Obama would come to Havana. In this performance there was also a computer he invented dubbed I-Mango, the tropical version of Apple."
I was in Cuba for two weeks in 1984. Brazil then had no diplomatic relations with the Castro regime.
The 1980s were a very significant moment for arts in Cuba because the artists became outspoken about the regime. In 1989, René did an exhibition with artist Pon Juan at Castillo de la Real Fuerza, a fortress at the Havana harbor, subtly criticizing the regime with images of Fidel, Che Guevara, Martí and others that was shut down. To play with their images was unheard of even in subtle ways, but the government understood it and interdicted the show. There were so many restrictions, many exhibitions were closed. Since the malaise was collectively felt, in September 1989, the Cuban avant-garde got together and organized a most curious performance that became famous: artists and critics played a baseball match. "El Juego de Pelota" (The Ball Game, 1989) became a sociocultural milestone in the history of Cuban art.
How is art studied in Cuba?
It all begins with very rigid, profound classic studies. Socialist countries focus on sports, music, dance and the arts.  Art teaching in Cuba is very developed. The university of arts in Havana, ISA [Instituto Superior de Arte], explores different methods of teaching that are fantastic. They get four-to-five-thousand applications from all over Cuba but only eighty students are enrolled. René Francisco studied there and eventually became a teacher at ISA. His unorthodox teaching method was the subject of concern among school administrators, but on the other hand he did a lot of social work with students in poor areas and this made him enduringly popular among students. He developed a dynamic method called Pragmática, where he teaches the same group of students during the four-years at ISA.
What do you have to say about the contribution of Latin American art?
We've always had great artists but for many years only those who lived in Paris became well known. But then again those were times with little communications among the countries…
Did that happen because we, Latin Americans, had then a very colonized mentality ourselves? 
Maybe but this mentality has radically changed since the advent of the Internet; now you have a tool that provides a fast way of learning about other people. Before, you had to physically travel and see the artists in their own environments. Another important factor is the recent interest of the museums in Latin America art. In 2014, we [the Cisneros Fontanals Art Foundation] organized the exhibition "Permission To Be Global/Prácticas Globales" at the Museum of Fine Arts (MFA), in Boston, which actually premiered during Art Basel Miami Beach. It wasn't such a big exhibition but it had a visitation of 95,000 during the three-month stay at MFA. The museum was surprised with the positive outcome and has since started buying Latin American Art. There's a genuine global interest in the arts of our continent. More collectors than ever are collecting Latin American art—that's clearly seen in Cuba; Americans are swarming there to buy art—and American museums are now showing art made in Cuba.
How about the big private American collectors? 
Presently, there are three or four big American collectors that are mainly buying Cuban and Latin American art for now, like Farber and Rubin from New York, Pizzutti from Ohio and lots more in Miami. The trend started in the 1980s with a small group of European collectors, headed by Peter Ludwig from Germany who has quite a big collection of Cuban art. Mr. Ludwig himself went to Cuba several times and even convinced Fidel to have his foundation active in Cuba. It was something unheard of before because Fidel was always afraid outside institutions were a means to bring money into Cuba to engage in counter-revolution activities. Fidel accepted on the condition he would choose a Cuban director, who would live there for life, and Ludwig accepted. The Fundación Ludwig de Cuba opened in 1994 and since then supports a variety of exhibition projects and events.
Now let's focus on your foundation.
It's the CIFO, Cisneros Fontanals Art Foundation, based in Miami, and my personal collection is the EFC Collection. I founded CIFO in 2002 with the idea of helping Latin American artists to get to be known outside of their own countries. The name of the foundation is my daughters'—Marisa, Mariela and Claudia's family name Cisneros, I'm Fontanals—since they'll be the new generation at the helm. CIFO plans now are to grow and to move from our present premises. Right now we're in a building where we can organize only two to three exhibitions simultaneously.  The aim is to have a full museum with a full program. We're now housed in three different venues—office, museum and warehouse—but we just bought a new building we're going to renew with Mexican-American architect Enrique Norten and have everything in one headquarters at the Design District in Miami on 36th Street. After that we'll build an annex from scratch and we'll amount to 65,000 square feet [6,000 meters] in all. Hopefully by 2017 we'll complete the first phase and move into the renewed space.
Can you tell us about a major exhibition your foundation is organizing presently?
We're organizing a big exhibition focused on Cuban art to open February 2017 in Miami with works beginning in the 1950s revolution till today. It will show the changes Cuban art underwent during all this time. It will go to the Smithsonian Hirshhorn Museum in Washington D.C., then to the Walker Art Center in Minneapolis, and then back to Miami.
What about an exhibition in Brazil?
We're planning to do an exhibition within our collection of Cuban concrete art here in São Paulo, a short-lived but very important movement in Cuba, that resonates with Brazilian concrete art. In 2015, we brought an art-video exhibition to the São Paulo MIS [Museum of Image and Sound] with works from a broad range of Latin American artists. We have lent works for several exhibitions in Brazil; for example, in 2013 we lent for the Pinacoteca several "Coloritmos" [Colorhythms], compositional modules on rectangular supports, for an exhibition of deceased Venezuelan geometric-abstractionist Alejandro Otero.
Is this your first experience curating with a private gallery, here in São Paulo?
In reality, I'm a friend of Nara and René is a friend of mine. So both sides are friends and it just happened that they clicked wonderfully. So I found myself in the middle and they asked me if I would curate the show. I'm not a curator but I'm used to hanging out with curators and artists, I'm always there helping out in the museums montages.  So I said fine because both are my friends and its been a very pleasant experience.
René Francisco: "Venceremos"
Curator: Ella Fontanals-Cisneros
Through May 6, 2016
Galeria Nara Roesler São Paulo
Cisneros Fontanals Art Foundation in Miami: cifo.org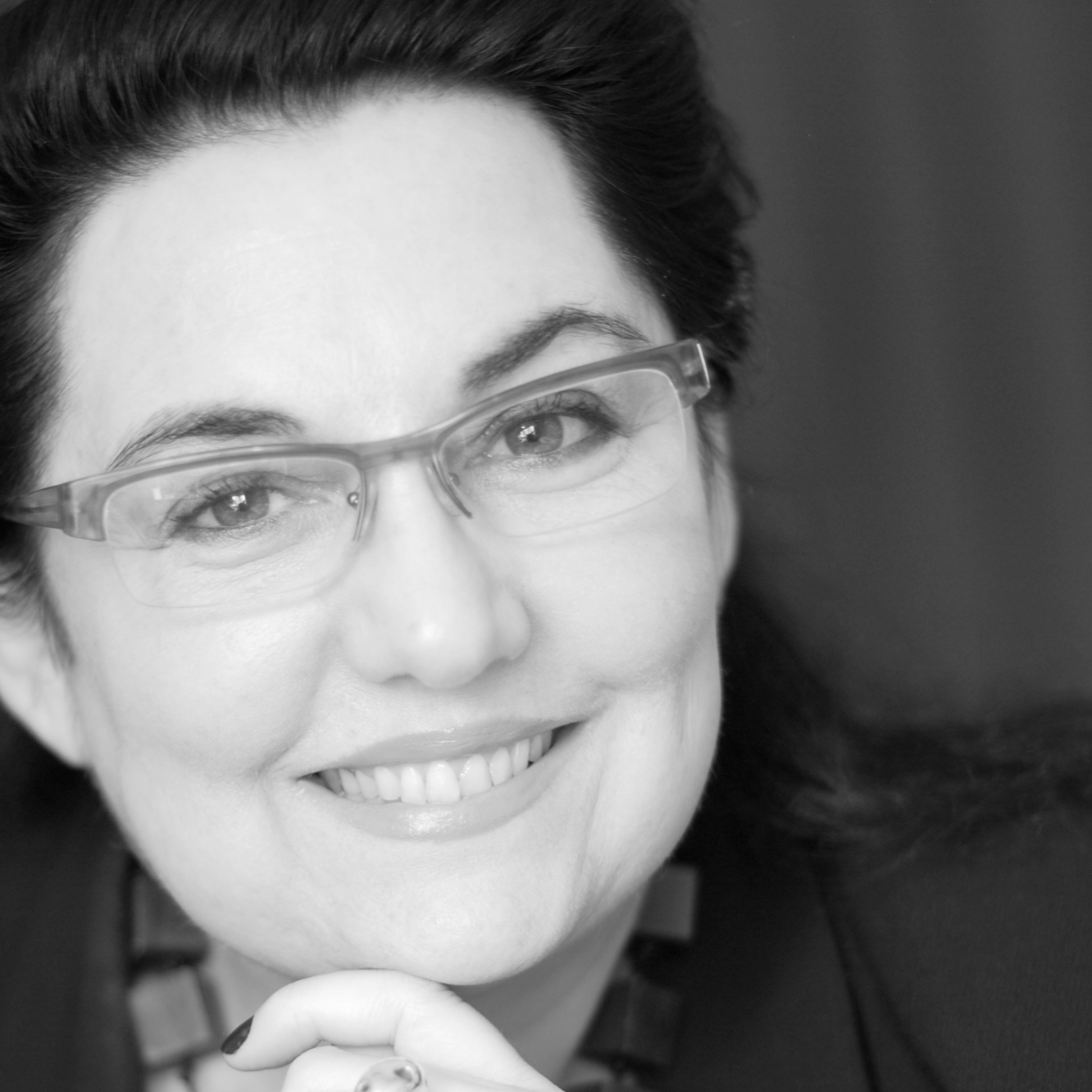 Rio-born Cynthia Garcia is a respected art historian, art critic and journalist fluent in five languages stationed in São Paulo. Cynthia is a recipient of the 2023 APCA (Paulista Association of Art Critics) award as a contributing editor of Newcity Brazil since its founding in 2015. Her daughter America Cavaliere works in the contemporary art market and her son Pedro Cavaliere, based in LA, is in the international DJ scene.
Contact: [email protected], www.cynthiagarcia.biz